We've gathered the best gifts for dogs and dog lovers in Canada that we know you're going to love. Dogs (aka our best friends) give us so much unconditional love that it's fun to treat and honour them along with their owners. Happy Shopping!
All images are from the businesses we feature. Some links may be affiliate links. If you click through and purchase, we may earn a small commission, at no extra cost to you. This helps support our team so we can keep sharing Canadian businesses. Thank you!
You might also be interested in:
Stay At Home Dog Mom T-Shirt
If staying home with your dog sounds like the perfect night, these shirts from Light & Shine, a local Toronto shop, were made just for you and they make the best gifts. 
Dog Mom Crewneck
Elle Ray Kay is a Winnipeg clothing store that has an awesome selection for pet lovers. We love their 'dog mom' crewneck sweater. They also have a few breed specific sweaters to choose from like 'doodle mom' or 'poodle mom'.
Rope Dog Leashes
Fluff Pet Care is an online shop based in Windsor, ON creating products for dogs and dog lovers. They have everything from engraved pet tags, leashes, and even ornaments. These rope dog leashes would make a trendy gift idea for your friends new pup.
Dog Tags
Tag 4 My Pet is a local Winnipeg shop selling accessories for your pets. They specialize in creating unique pet tags, collars and other dog related gifts. We really love their hand-stamped dog tags.
Snuffle Mats
Phoebes Pawlace Shop is an online pet accessories shop based in Kemptville, ON. They specialize in snuffle mats and fleece tug toys. Snuffle mats can be used by burying your dog's food under the flaps of fabric. This helps to slow down feeding, increase mental stimulation and can be helpful for dogs suffering from separation anxiety or recovering from surgery. 
We gathered our favourite dog collars and bandanas in a completely separate shopping guide because there are too many to feature here.
Dog Bows
Specializing in bows and bandanas, Mouse's Closet is an online pet accessories boutique based in Montreal, QC. We can't get enough of their adorable hair bows for your pup! 
Picture by @mia.inthe6ix on Instagram
Dog Portraits
These watercolour pet portraits by Vancouver artist from Ayry Art would make a truly unique and thoughtful gift for the dog lover in your life. 
There are so many amazing Canadian businesses offering portraits so we put an entire pet portraits guide together.
Dog Ornaments
Nunatak Designs (based in Whitehorse, YK) creates dog ornaments that can be customized with specific dog breeds and pet names. These would make such a special gift!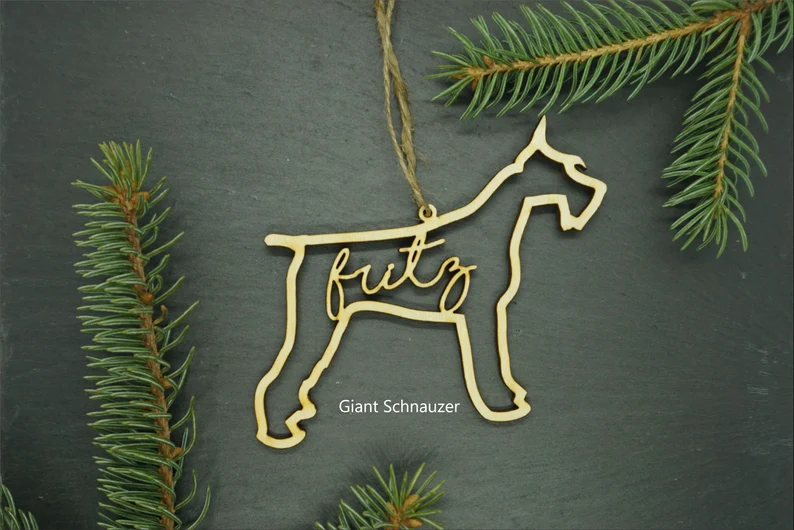 Dog-Themed Wood Signs
This handmade wooden sign from Lines By Lacey makes sure your guests know exactly how you feel about your dog without having to say a word! Lines By Lacey is an online shop based in Calgary, AB.
Floscense
This insect repelling from Floscense (based in Toronto, ON) is made with a blend of eucalyptus, peppermint, lavender and citronella essential oils to repel insects and keep your dog smelling fresh.
Dog Themed Party Supplies
Dog Themed Greeting Cards
Jaybee Design is a local Calgary card shop, that creates greeting cards for all of life's occasions. We love these adorable dog themed birthday cards. 
Dog Garland
No matter your age, dog-themed birthday parties are something we can totally get behind. Funkissd is an online party boutique based in Montreal, QC. They have adorable dog-themed party supplies like this cute dog garland.
We hope you enjoyed this round-up of gifts for dogs and dog lovers. We loved curating this list and finding the best of the best dog-themed gift ideas. Happy Shopping!
You might also be interested in: