If you're looking for gifts for teenage girls, we've hand picked our favourite gift ideas and shared them with you below. We found gifts that allow teenage girls to express their style and personality in the trendiest way. Happy Shopping!
Some pictures are from the websites of the businesses we feature. This post may contain affiliate links. At no cost to you, we may earn a small commission if you make a purchase. This helps support our team and allows us to keep making local shopping in Canada easy. Thank you for supporting our family-owned small business too!
Smiley Face Sweater
These oversized smiley face sweaters from Elle Rae Kay, a local Winnipeg business, would make a great gift for teenage girls. They come in a variety of colours and ship for free.
Teen Girls Room Wall Decor
These aesthetically 'on-trend' prints from Tara Michelle Prints, a local Edmonton shop, are such a simple way to transform your teenagers room. Grab a custom set or choose a collage. The set shown below includes 30 prints and ships for free.
More Gift Ideas For Teenage Girls
Personalized Teen Journal
These fun striped journals from Ginger Moon Gifts, a local Ontario business, would make such a great gift idea. Many teenage girls love keeping a journal of their day or keeping notes in class. We love that these can be personalized with your teens name.
Stand Up Paddle Board
These inflatable paddle boards from Quebec company, Maddle, would make an incredible gift for teenagers who love the water. Their paddle boards come in so many awesome designs that you can pick one that suits the teenage girl in your life perfectly.
Mountain Girl Sweater
These 'mountain girl' crewneck sweaters from Lace Brick Design, a local Calgary shop, would make a great gift for mountain lovers and for teenage girls who love the outdoors. It's such a great way to show their love of the mountains and the perfect ski resort attire.
Flower Garland
Another perfect way to decorate a teenage girls room is with these flower garlands from Pink Butterfly Designz, a local Calgary business. These garlands are made with felt and would look cute over a desk, bed or hanging from the ceiling. 
Cute Drink Bottle
Another fun way for the teenager in your life to express their personality is with these glass drink bottles from A Larocque Design, a local Quebec business. We know this retro design would be a hit with any teenage girl.
Colourful Ring Dish
This pink ring dish is made in Canada by YFL Art & Home Decor. These are a cute place to hold jewelry, student cards, and keys. They come in a variety of colours but this pink is definitely a favourite!
Teenage Girl Gift Box
EcoFreax, a local London ON shop, has put together this eco-friendly gift box for teenage girls. We especially love the large pink stainless steel travel mug. You might also be interested in our shopping guide for gift baskets in London Ontario.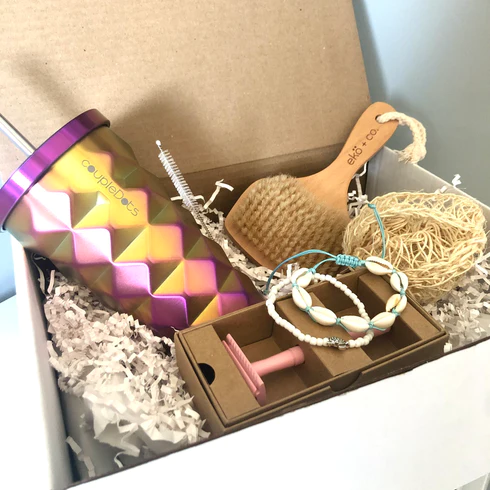 Those are our top choices for gifts for teenage girls but we're going to keep updating this list as we discover more gift ideas. Thank you for supporting these local Canadian shops. You might also be interested in these Canadian gift ideas.