Advent calendars are a fun way for kids and adults to count down the days to Christmas. We wanted to gather a list of the best advent calendars in Canada to help you find the perfect one. We had no idea there was so many different ones to choose from. Whether this is a gift or you're getting into the holiday spirit yourself, there's sure to be one that's perfect for you. 
Some pictures are from the websites of the businesses we feature. This post may contain affiliate links. At no cost to you, we may earn a small commission if you make a purchase. This helps support our team and allows us to keep making local shopping in Canada easy. Thank you for supporting our family-owned small business too!
You might also be interested in:
Canadian Advent Calendars 2023
Candy Advent Calendar
These candy advent calendars are from La Boite A Bonbon, a Quebec based company that specializes in delicious and fresh candy. Enjoy a new treat every day for 24 days.
$40.99 with free shipping on orders over $59.99. On orders under $59.99 shipping is $3.99 to Ontario & Quebec, $7.99 shipping to Alberta, British Columbia, Manitoba, New Brunswick, Nova Scotia and Saskatchewan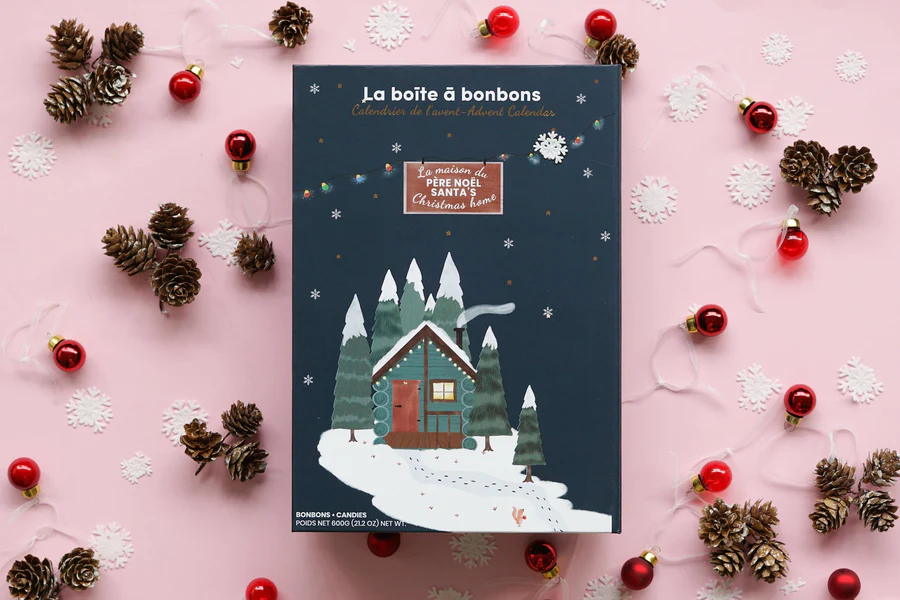 Local Shops Advent Calendar Canada 2023
LEK Handmade Designs has collaborated with six other local Canadian shops to create a unique advent calendar for 2023. This advent calendar features products from seven Canadian business to open for 24 days leading up to Christmas. It's the perfect way to support local Canadian shops this holiday season.
They offer free shipping on the advent calendar
Fishing Advent Calendar
Falvai Creative is a local shop based in Qualicum Beach, BC. They've put together the perfect advent calendars for fishing enthusiasts. They have both a fresh water fishing tackle set and a fly fishing advent calendar, depending on the type of fishing the recipient enjoys. If you need other gift ideas, check out our top fishing gift ideas.
Crystal Advent Calendars Canada
If you or someone you know is interested in crystal gemstones, the crystal advent calendar from Curly Candle (based in Delta, BC ) would be perfect. You can choose between 12 or 24 days of raw and tumbled crystals. You might also be interested in our Canadian crystal stores shopping guide.
The crystal advent calendars from Crystal Healing Mama, a local Goderich ON shop, comes with 24 tumbled or rough crystals. Rather than have these crystals numbered, they let you intuitively picked which individually wrapped crystal to open each day. 
Bath Bomb Advent Calendar
Enjoy a new Canadian bath bomb every day for 24 days leading up to Christmas. This advent calendar from Maritimes Soap & Bath, based in Halifax Nova Scotia, is the perfect advent calendar for bath lovers.
Ferrero Rocher Advent Calendar
These wooden tree advent calendars from Knotted Sage (based in Vancouver, BC) are made specifically to fit Ferrero Rocher chocolates. These are great for chocolate lovers and can be personalized for an extra special touch.
Candle Advent Calendar
Enjoy 6 days of scented coconut soy wood wick candles from Vancouver candle company, Mala The Brand. This would be the perfect surprise gift for a candle lover!
Crayola Kids Advent Calendar
Grab the Crayola kids advent calendar from Caribou Gifts (based in Toronto, ON) for 24 days of creative projects for your kids. This will help build the excitement and encourage creativity right up until Christmas day. 
$29.99 plus shipping – free pick-up available in Toronto, ON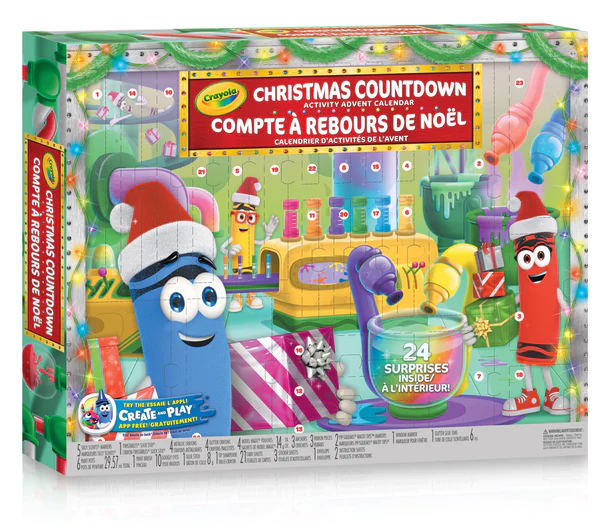 Kids Activity Advent Calendar
Divine Arts By Archana (based in Brampton, ON) has created a kids activity advent calendar that is a great spin on traditional advent calendars. This calendar is the perfect way to spend some quality time with your kids. For 24 days enjoy a winter or holiday themed activity. A few examples include having a snow ball fight, writing a letter to Santa, and making a card for someone special. 
Chocolate Advent Calendar
If you're a chocolate lover or shopping for someone who loves chocolate, this advent calendar is perfect. For 24 days you'll get to enjoy a new chocolate in some really unique flavours like almond coconut crunch and Christmas morning coffee. 
$49.95 with free shipping on orders over $80 in Ontario and Quebec. On orders under $80, shipping is $9.95. For all other provinces, shipping is $14.95.
You can purchase the tea, candy and chocolate calendars we mention above all from Shop Moi Ca if you're buying for a few people and want to save on shipping.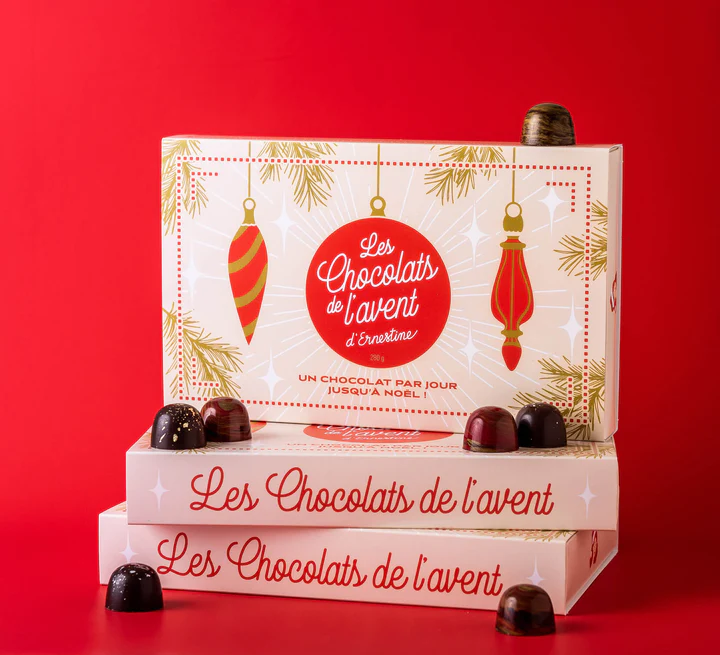 Dog Treat Advent Calendar
When it comes to advent calendars, you can't forget about your pets! Local Vancouver British Columbia based business, Dante's Doggy Delights, offers a gourmet dog treat advent calendar. This is the perfect way to help countdown to Christmas with your dog!
Do It Yourself Advent Calendars
If you'd like to create your own advent calendars, the Canadian businesses below will help you get started planning out your very own advent calendar. 
These are some of the best advent calendars in Canada for the 2023 Christmas season. We'll continue to update this list as we discover more calendars we think you'd enjoy.
You might also be interested in: