If you're anything like us, summer is one of your favourite seasons. Sea shells immediately remind us of beautiful summer days spent at the beach. That's why we love the trend of incorporating sea shells into jewellery designs. It's the perfect way to bring those summer vibes to any outfit. We've handpicked sea shell jewellery from Canadian shops to share with you below.
All pictures are from the websites of the businesses we feature. This post may contain affiliate links. At no cost to you, we may earn a small commission if you make a purchase. This helps support our team and allows us to keep making local shopping in Canada easy. Thank you for supporting our family-owned small business too!
You might also be interested in:
Canadian Sea Shell Jewellery
Angelantis
There will never be two pieces alike as every seashell or pearl used is unique. The beautifully handmade vintage designs are made using natural seashells, freshwater pearls and abalone which when caught in the sunlight the gradient colours shine especially bright. The necklaces are the perfect statement on their own or layered with other pieces.
Ramona Lim
Ramona's inspiration started from the Ikebana, the art of bringing flowers to life. A love for flowers has grown into creating beautiful cowrie seashell pendants, rings and stud earrings. Using only high quality solid sterling silver and gold and natural gemstones from local vendors who are certified gemologists, each individual beautiful piece of Ramona's jewelry is meticulously handcrafted with precision and love.
Grounded Revival
Grounded Revival is a spiritual wellness lifestyle brand. In their modern designs they use the Tasbih bead which, for thousands of years, are used to help keep your focus and count in meditation and prayer. Suzie, the creator of Grounded Revival, is inspired to create beautiful designs to accompany everyday outfits while grounding you in mindful living, taking moments to reflect and pause and inspire positivity. They create gorgeous necklaces that incorporate sea shells into their designs.
Adorned By Ruth
BOLD. SIMPLE. INSPIRED. Are the first words you see when visiting Ruth's website of beautifully handcrafted, uniquely designed jewelry.
BOLD-each elegant piece makes a statement and is the perfect addition to any outfit.
SIMPLE – the designs are simple and modern, created using quality materials like gold fill, sterling silver, semi-precious gemstones, and freshwater pearls.
INSPIRED – by a ring she received as a gift from her dad when she was a little girl. Where she fell in love with all things "Sparkly" and so began her love for jewelry which then turned into a passion for creating jewelry.
They have a few beautiful shell earrings to choose from.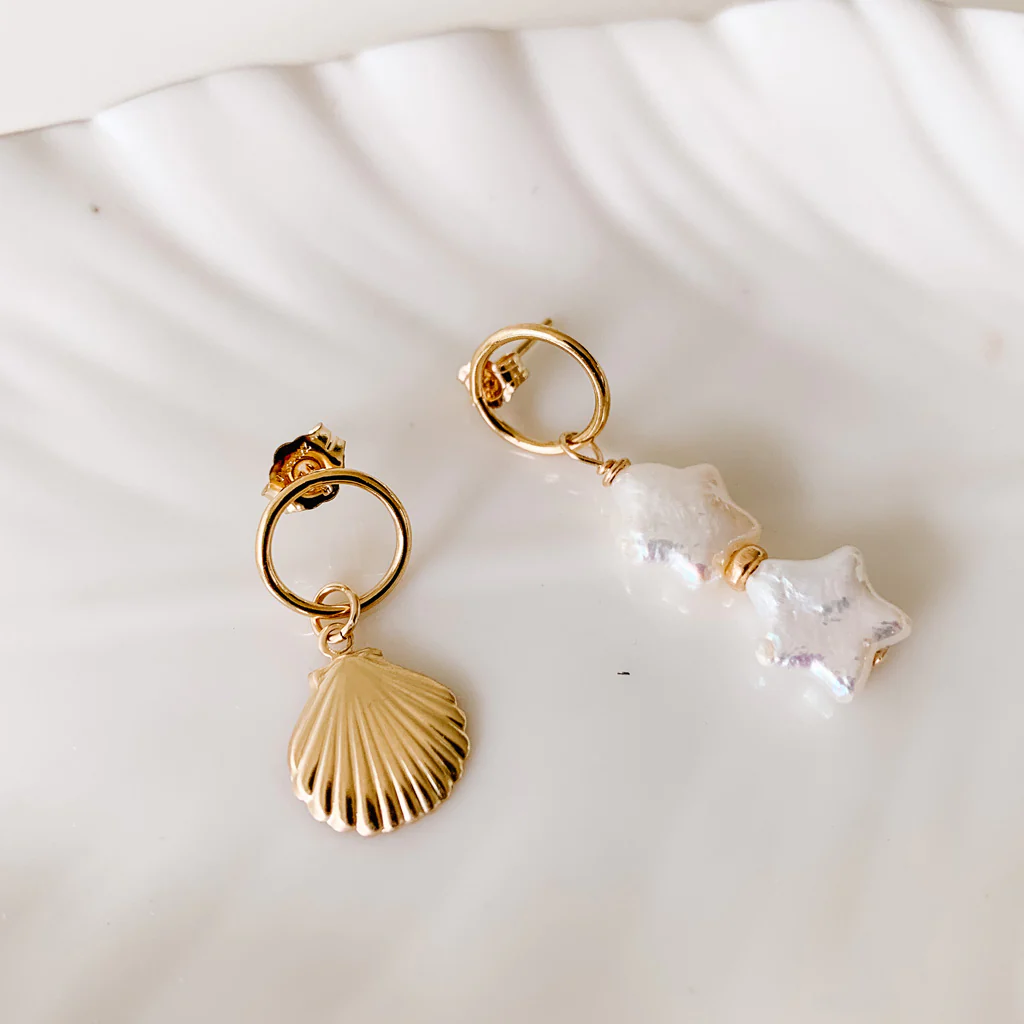 We hope this guide helped you find a new piece of sea shell jewellery that adds that perfect summer vibe to your wardrobe. Now it's time for the beach! 
You might also be interested in: