If you're looking for the best wine gifts in Canada, we've got you covered. Wine has a way of working itself into so many events like happy hours, celebration dinners, movie night, birthday parties, girls night…and the list could go on and on. We want to help you find the perfect gift for wine lovers so we've rounded up the following gift ideas.
You might also be interested in our gifts for beer lovers or cocktail kits shopping guide.
Some pictures are from the websites of the businesses we feature. This post may contain affiliate links. At no cost to you, we may earn a small commission if you make a purchase. This helps support our team and allows us to keep making local shopping in Canada easy. Thank you for supporting our family-owned small business too!
There are so many amazing wine tours to explore in Canada. You can check out a number of wine tours and read more about them by clicking the link below. From exploring the Ontario wine region in Niagara to embracing the wine life in Kelowna, BC – there's so many great wine tours to check out.
Handblown Glass Wine Tumblers
These handblown wine glasses are made by glass artist, Masaru Honami in the Glen Williams glass studio. The gorgeous set of colourful wine tumblers shown below are durable enough for everyday use. These would make a great gift for wine lovers or even a wedding gift.
Upcycled Wine Glasses
WasABottle is a local Toronto business that uses wine bottles from around the world to create incredible art, home decor and wine glasses like the ones shown below. These aqua clear wine glasses are cut, sanded and polished so they're smooth and perfect for enjoying a glass of wine. What a great way to re-use wine bottles!
These custom wine racks from local Montreal business, JM Labonne Impression, make such great gifts for wine lovers and they'd also make a great wedding gift. You can have them customized with names and dates and you even get to choose the font and design. It's a great way to display and store your wine bottles and wine glasses.
These socks from From Friday Sock Co., a local Calgary business, are perfectly mismatched. On one sock there are wine bottles and wine glasses and the other sock has grapes. It's a great way for the recipient to show off their love of wine in a unique way. These make great wine gifts and stocking stuffers.
Daisy Thirteen is a local Winnipeg shop that creates some of our favourite funny gifts including these fun wine themed wooden blocks. These are perfect to add to a bookshelf, in the kitchen, wine bar or even the bathroom.
Funny Wine Labels
If charming and cheeky is what you're after local Sherwood Park Alberta shop,
Prairie Chick Prints
, is the answer. They've created fun wine labels that would make amazing hostess and birthday gifts. They even have hilarious wine labels for teacher gifts.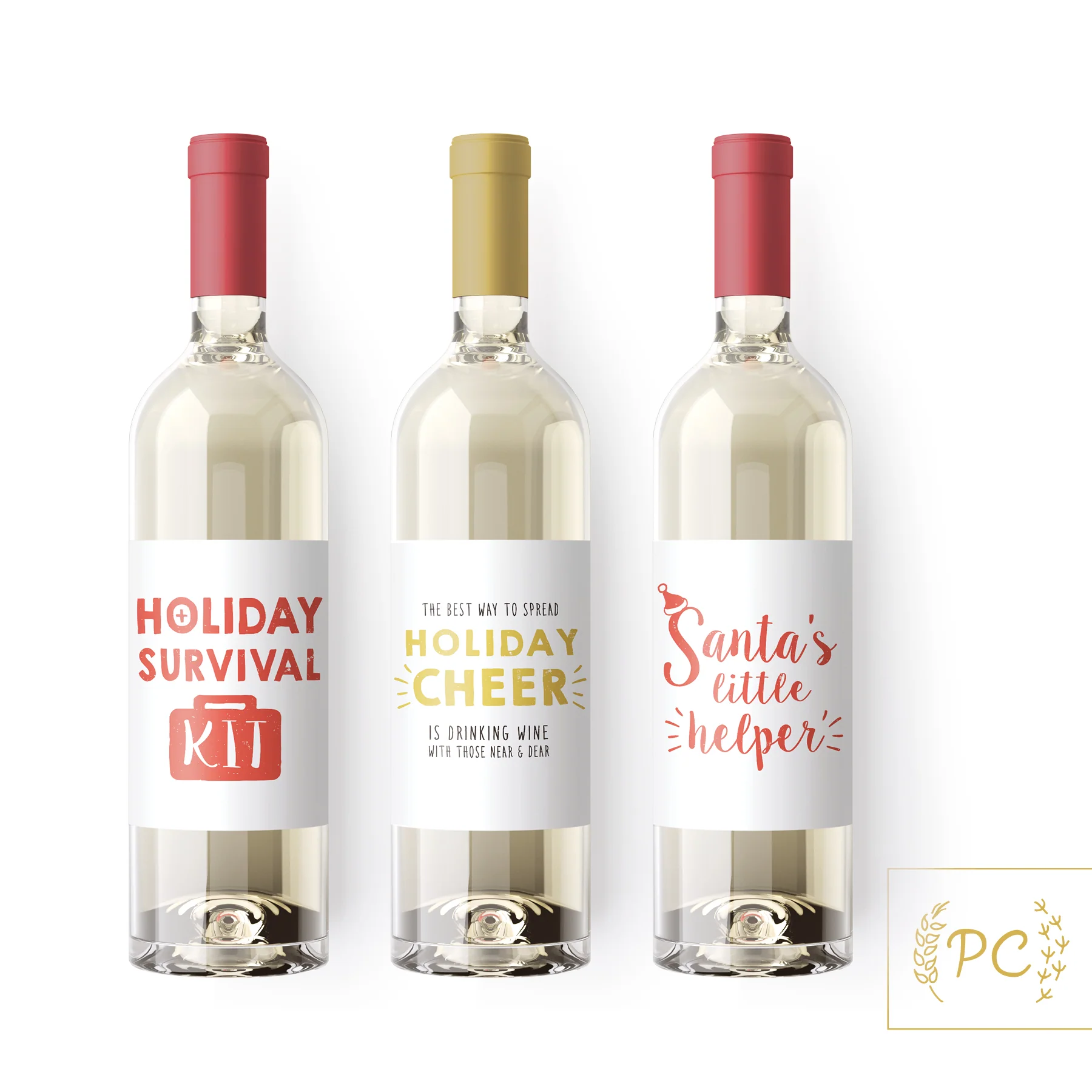 Fun Wine Themed Greeting Cards
You can never have too many greeting cards! We love stocking up so we're prepared for that last minute party invite. Nancy Carol Studio based in Port Moody, BC has some great wine themed cards to choose from.
Wine & Weekend Vibes Sweater
Based in Toronto, ON Simple Girl Canada is a women's clothing brand on a mission to "inspire, motivate, make you smile and feel good". Check out their 'wine and weekend vibes' sweater for the wine lover in your life. So cute, comfy and made in Canada! 
Wine Flavoured Popcorn
EATABLE (based in Toronto, ON) puts a sophisticated twist on a traditional snack with their 100% all-natural alcohol infused popcorn. 'Poppin' Merlot' is perfect for wine lovers or you could grab their 'Connoisseur's Flight' and get all five flavours.
**Save 15% with coupon code: SLC15 
Red Wine Stain Remover
Wine spills are bound to happen every so often so this red wine stain remover from Tate General Store, a
local Toronto shop
, is great to have handy. It's a practical wine related gift for the red wine lover in your life.
Pottery Wine Tumbler Candles
These pottery wine tumblers are filled with soy wax so you can enjoy them as a candle before using them as a wine tumbler. These are made by Hamilton pottery shop, Steel Town Pottery.
Wine Bottle Candle
Wine Plush is a local Toronto shop that creates soy wax candles from premium wine bottles. These are a fun way to re-use wine bottles and would make a great gift.
Mulled Wine Candle
Aroma Valleys is a Toronto candle company that has created a mulled wine scented candle. These candles make great wine gifts. If you live in Toronto you can arrange to pick up your order and save on shipping.
These are some of the best wine gifts in Canada. This will help you find the perfect gift for the wine lover in your life. We'll keep updating this list as we discover new wine-related products.