We've gathered some of the top cocktail kits in Canada below. This will help you easily find the perfect gift for your cocktail loving friend or a cocktail kit for a fun night at home. The best part is that all of these kits are from an awesome Canadian business.
You might also be interested in our best wine gifts and gifts for beer lovers.
Some pictures are from the websites of the businesses we feature. This post may contain affiliate links. At no cost to you, we may earn a small commission if you make a purchase. This helps support our team and allows us to keep making local shopping in Canada easy. Thank you for supporting our family-owned small business too!
Royale Mix
All of the essentials for every level cocktail lover. Whether you are experienced or just dabbling in cocktail creations, Royale Mix has shaker sets with everything you need to make delicious cocktails. They come beautifully displayed in an organizer, making for the perfect addition to your bar cart or bar top.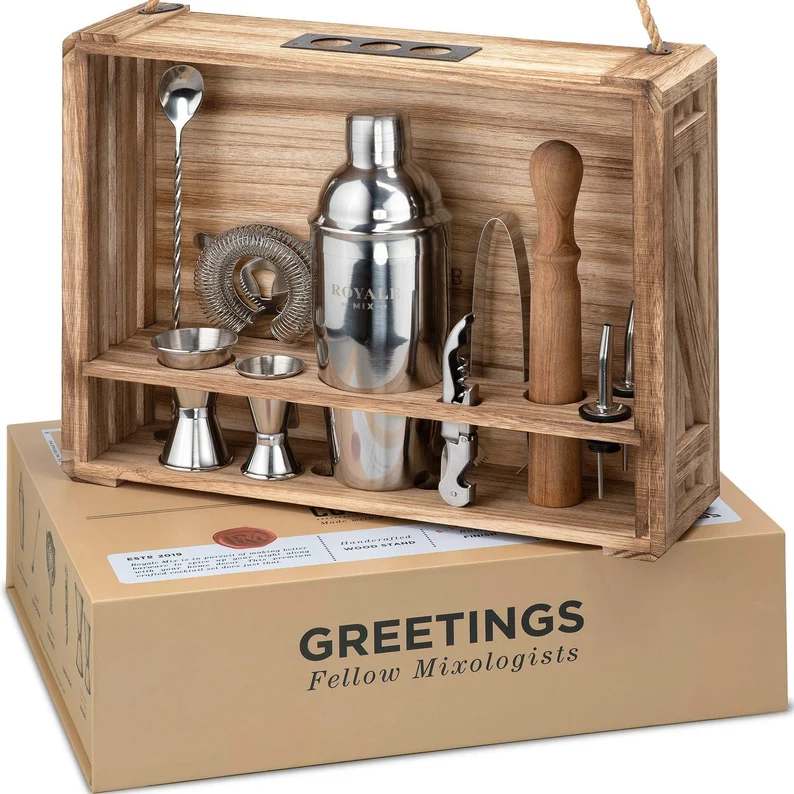 The Cocktail Box Co
Making the perfect cocktail anywhere, anytime has never been easier with these portable cocktail kits that come with everything you need to make a premium cocktail. Each kit contains high-quality ingredients, a bartender's spoon, muddler, 3 cocktail picks and also a hand-knit cocktail napkin for spillage. You can enjoy cocktails such as: Daiquiri's, Gin & Tonic, Old Fashion, Mojito's and much more.
Wayward Gents
Want to infuse your own alcoholic or non-alcoholic cocktails? Wayward Gents Cocktails has freeze dried all of the ingredients for a perfectly infused cocktail. They have kits for Sangria, Caesars, Paloma and more. Pick your kit, add your alcoholic (or non-alcoholic) mix and infuse for 25-72 hours, strain and voila, the perfect cocktail!
Ardi foxe Curated Gifts
This sleek and luxurious cocktail kit is perfect for the Old Fashion drinker in your life. Stocked with everything you need for the perfect Old Fashion; Maraschino Cherries, high quality organic ingredients, a bartender's spoon & Muddler and a stainless steal jigger, plus whisky infused gourmet popcorn to enjoy with your cocktail.
Curated For You
Pop the champagne and add a luxe sugar cube infused with peach, strawberry or raspberry flavours to spice up your next celebration. Beautifully presented with a customizable champagne glass, a heart shaped soap bar and a margarita scented bath bomb, the Champagne Party Kit makes for the perfect gift.
Fresh Dried
Make the most beautiful cocktails with these packs of dried fruit. Easy and delicious! You can infuse your water or garnish your cocktails, whatever you choose your guests will be wowed by the added flavour and the elegant look of their drink. The dried fruit comes in clear packaging, making for the perfect addition to gift boxes, gifts or party favours.
Copper Spice Co.
The Copper Spice Co. (based in Edmonton, AB) has every kind of rimmer you could dream of to accentuate your cocktails. From Chipotle Grapefruit for Paloma's to Coconut Lime Sugar for Pina Coladas to Habanero Honey to add something sweet and spicy to any cocktail that needs a little something a little extra. 
Free Pour Jenny's
Free Pour Jenny's makes handcrafted cocktail bitters and shrubs (shrubs are concentrated syrups made from vinegar, fruit and sugar…I had never heard of shrubs before!). Jenny prides herself on using homegrown and wild ingredients from the Yukon in each Bitter and Shrub she makes. The perfect blend of flavours to add to your favourite cocktail.
Middleton's Bitters
Becoming your own mixologist has never been easier. Experiment with the delicious Middleton's Bitters to create your own unique cocktails. Use flavours such as Root Beer, Cherry & Vanilla and Apple & Cinnamon best paired with amber spirits while Rhubarb, Orange & Cranberry, and Grapefruit & lavender are best paired with clear spirits. Try your hand at mixology at your next party!
34 OZ Tonic Maison
Want to take your cocktail and mocktail game to the next level…then you need to check out 34 Oz Tonic Maison (based in Montreal, QC). Beautifully designed labels and packaging are just the intro to the incredible flavours offered in each cocktail kit. Add to your favourite clear or dark spirits to make the perfectly flavoured cocktail or spruce up your lemonades, coffee, ice cream, or fizzy water for delicious mocktails. The possibilities are endless!
Wet Cocktails
You now have the ability to make the perfect spirit, tailored just for you. With the Wet Cocktail kits, you can decide how much flavour your spirits will have, whether you like a lot of flavour or just a little, you can control it by how long you infuse the dried fruits, spices, and herbs of each kit. Allowing you to create the perfect, to you, cocktail.
As you can see there are so many awesome cocktail kits in Canada to choose from. We're happy to help make shopping and supporting a Canadian business a little easier.