Are you tired of fast fashion or buying products that don't transition from season to season? The goal of this article is to introduce you to some of the best leather bags in Canada. Made in Canada leather bags truly stand the test of time and will be with you for years to come, regardless of seasons or trends that come and go.
All images are from the websites of the businesses we feature. This post may contain affiliate links. At no cost to you, we may earn a small commission if you make a purchase. Thank you for supporting our family-owned small business!
Double SS Leather
Double SS Leather is based in Strathmore, AB and is truly a family-run business. The owner, designer and maker, Sharon, has learned from her parents (Stan & Mabel) who have been building saddles for over 40 years! She creates leather products that are fashionable but also incredibly durable. These leather bags can stand the test of time.
Janie-Nicole Leather
Janie Nicole Leather creates distressed leather bags and purses in Calgary, AB. We love their small crossbody bag with an antique brass swing clasp (shown below). This shop is a star seller on Etsy and we can see why with the large amount of five star reviews for their leather bags.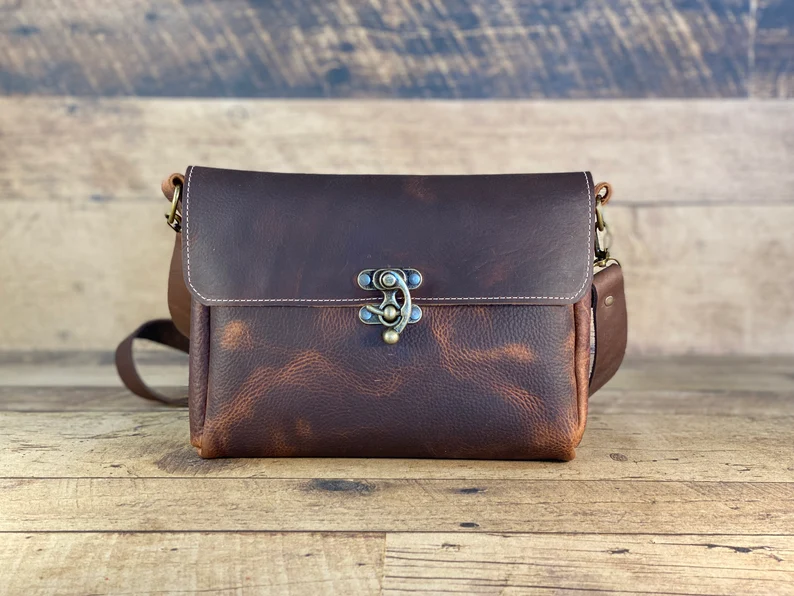 Illo Leather Bags
Illo Leather is based in Calgary, AB and owned by Sara Nishi. Sara creates leather bags with hand tools (no sewing machines) and vegetable tanned leather. Her designs are modern and minimalist and truly made by hand.
British Columbia Leather Bags
Thistle Industries
Thistle Industries is based in Fort St John, BC. They create high quality leather bags that have all been thoroughly tested to make sure they meet high quality and design standards. Our favourite design of theirs is the 'Rocket Queen'. It's perfect for travel as it has a fully enclosed zipper top and interior pockets for phone, passport, etc. The unique patterned detail is an added bonus!
Wilhem & Friends
Wilhem & Friends is based in Vancouver, BC and has an amazing collection of made in Canada leather products like luggage tags, laptop sleeves and a leather duffle bag. This gorgeous bag (shown below) is perfect for weekend getaways, a stylish carry on, or heading to the gym.
New Brunswick Leather Bags
Hammerthreads
Hammerthreads in based in Woodstock, NB and makes all of their leather bags using full grain leather. Full grain leather means that it hasn't been altered in any way and may include scratches and marks. This gives each bag character and makes them truly unique. Our favourite is the contrast tote (shown below).
Loka Studio
All leather bags from Loka Studio are handmade by owner and designer Sam in Vittoria, ON. Her leather purses (shown below) have raw edges and a more organic feel while her leather totes and clutches have more of a minimal and modern feel with clean lines. There are also lots of colours to choose from.
Karen Kalashnik
The leather bags from Toronto-based online business, Karen Kalashnik, are perfect for anyone looking for a unique, super trendy, Canadian-made bag. Whether it's fringe, unique hardware or gold zippers, Karen Kalashnik creates some of our favourite leather bags and purses. 
Hides Handcrafted Leather
Hides Handcrafted (based in Toronto, ON) creates a variety of leather products that are 100% handmade and come with a lifetime warranty. They make everything from wallets, messenger and duffle bags, backpacks, wallets, belts, toiletry bags, and more. They also offer personalization and free shipping across Canada.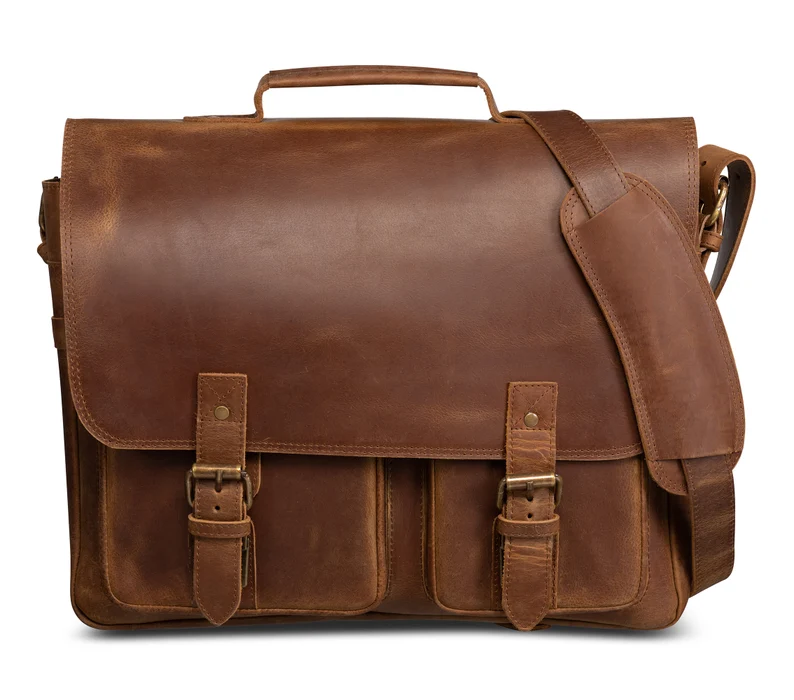 NAB Leather
It's rare that we come across a business that stands by their product as much as NAB Leather does by offering a lifetime guarantee on their handcrafted leather products. NAB Leather is based in Toronto, ON and has an amazing collection of luxurious and durable leather duffle bags. Choose from black or brown full grain Italian leather. If you need a leather belt or wallet along with your leather bag, they make those too!
Sadelmager
Sadelmager, based in Alliston and Toronto, uses traditional saddlery techniques that were passed on from the father of co-owner and designer, Becca. All bags are handcrafted with vegetable tanned leather and North American sourced materials. Their bags are truly built to last.
Saskatchewan Leather Bags
Hopefully this round-up of some of the best leather bags in Canada helped you find a new bag that's perfect for you all while supporting an awesome Canadian business.