If you're looking for gifts for travel lovers, we've picked our favourite ideas and shared them with you below. Some of these travel-themed gifts help make trips easier and more organized, while others help you document your adventures and show your love of different countries around the world. 
Some pictures are from the websites of the businesses we feature. This post may contain affiliate links. At no cost to you, we may earn a small commission if you make a purchase. This helps support our team and allows us to keep making local shopping in Canada easy. Thank you for supporting our family-owned small business too!
Travel Accessory Gift Ideas
Travel Pillow
Luxury pillow and sleep mask travel kit from Volprivé, a local Quebec business, comes with an easy to carry bag. The half-moon shaped pillow is made from memory foam which makes it super comfortable and light weight. The cover is made from merino wool which can be easily removed and washed. You can travel in ultimate comfort with this adjustable sleep mask and travel pillow.
Infinity Scarf With Pockets
What's better than an infinity scarf? An infinity scarf with a hidden pocket! These made in Canada scarves from Ruby's Daughter 1977 (based in Truro, NS) are perfect for when you travel or on the days you don't want to bring a purse. There's a hidden zipper to keep your belongings safe and a beautiful array of colours to choose from. These scarves are both stylish, practical and perfect for travelling. 
Travel Tech Organizer Gifts
Journo Travel Goods is a local Winnipeg shop that has a travel cord and tech accessory organizer. Whether you are heading to the office to work, a coffee shop or travelling for work or pleasure, you are going to want to purchase this travel tech organizer. It neatly organizes all of your cords, chargers, headphones, and more. No more tangled cords! And it's the perfect size, durable and waterproof, perfect for travel and to keep your tech gear safe.
Travel Towels
Turkish towels are ideal for travel. They fold nicely and are compact and easy for transport. You can use them as a towel at the beach or after a shower or as a throw or lightweight blanket. Pomp & Sass have designed the most beautiful Turkish towels that come in many different colours, patterns and designs. Also, they donate a portion of the profits to the Canadian Women's Foundation. This women owned and operated business checks all of the boxes!
Travel Shoe Bags
What a brilliant idea! A stylish bag to carry your extra pair of shoes. Walk in comfort in your sneakers to your next event or night on the town and switch into your fancy sandals or pumps when you get there. This shoe bag has zippers on both ends (2 separate pouches) for each of your shoes. They come in array of colours, fun designs and patterns. Easy to pair with any outfit. You need this bag for your nights out on the town or your travel adventures.
Leather Luggage Tag
Never mix-up your luggage again with these beautiful leather luggage tags from Spring Box Craft Co (based in Mississauga, ON). Made from real leather, there are multiple colour options and you can personalize it with your initials, your name or a nickname. And on the back, safely tucked away is a spot for your contact information card.
Jewellery Travel Cases
Keep your jewellery secure and easy to find in the Sacha & Co (based in Kelowna, BC) personalized travel case. Have you ever tossed your jewellery in a little satchel or worse in a pocket in your purse? Everything gets tangled and you only ever find one of your earrings. This jewellery travel case is the perfect size to take with you and organizes your jewelry so nothing gets lost or knotted. You can personalize the beautiful leatherette box with initials or a name making it a perfect gift for travel lovers.
Waterproof Travel Cases
Packing up quickly and moving on to your next travel destination? What do you do with your wet bar of soap or toothbrush? Mamazita (based in Sainte-Adèle, QC) has the perfect solution, with their waterproof travel cases. Their business is eco-responsible with a focus on sustainability. These pouches are made from recycled plastic bottles. Such an awesome idea!
Packing Cubes
Mountain Equipment Co-Op has a selection of packing cubes that help organize your suitcase and make it way easier to pack. 
Sweaters With Pockets For Passport
Not only are these pullover sweatshirts from Pokète (based in Montreal, QC) stylish and comfortable but they are perfect for travelling or even running everyday errands. There are 3 different sized pockets with invisible zippers to fit all of your travel necessities. Travel with a sense of ease knowing your credit cards, passports, chapstick, cell phone etc. is safely on your person, in a hidden pocket in your sweater.
Vacation Sweater
These 'vacay mode' t-shirts from Make It Customized (based in Vancouver, BC) are such a fun way to announce you're officially on vacation. Their t-shirts are so soft and come in the most beautiful array of colours like olive, mauve, raspberry, mint, blue and more. You can choose a different colour for each day of your vacation. Don't forget to turn your "Out Of Office" on!
Modern Skyline Posters
Bugsy & Sprite (based in Edmonton, AB) makes modern skyline posters of places around the world. You name it and they pretty much have it and if you don't see the city you want, you can contact them because they have lots that aren't posted on their website. The design of these posters is definitely our favourite. The skyline is outlined in black and white and the sky is a bright pop of solid colour. You can also customize your poster with names and dates making your poster personalized to your trip or a gift recipient. It would be cool to order a poster for each city you've travelled to and display them on a gallery wall. Such a great travel themed gift idea.
Trip Poster Gifts
Want a unique way to commemorate a great trip or the city you live in? Trip Poster, a local Vancouver shop, makes cool vintage, art deco posters of different destinations around North America. Some include British Columbia, Ontario, Quebec, The Rockies and the USA. The cool, calm colours and modern design will add to your homes decor.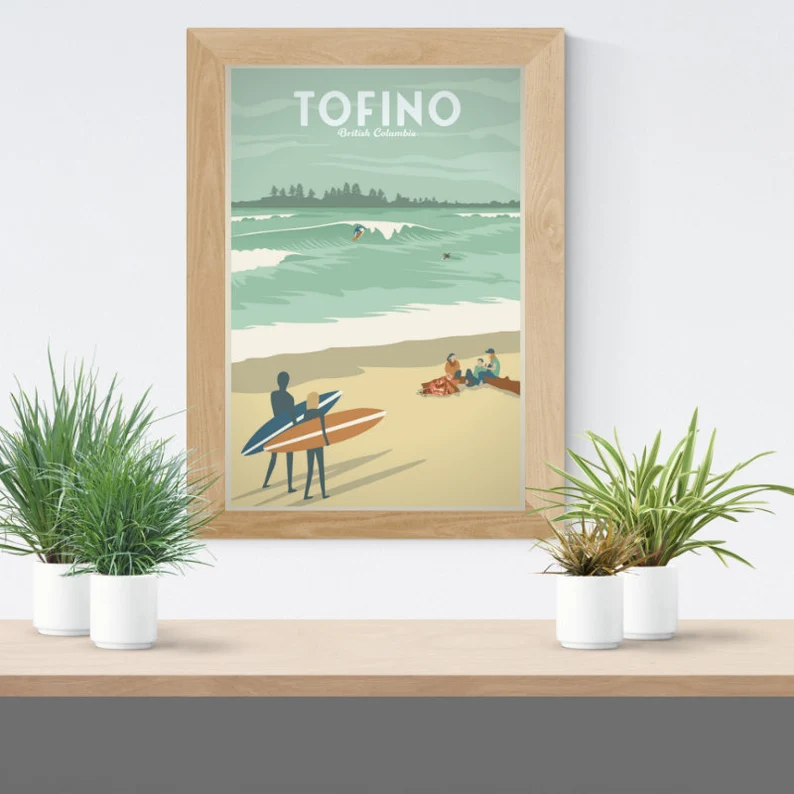 Personalized Travel Journal
These personalized 'adventure awaits' travel journals from Journo Travel Goods are perfect way to reflect on what is happening on your day-to-day travels, what are some of the things you saw or experienced, the people you met and how you felt through it all. Create a book of memories that you will enjoy years after your travels are done.
Memory Passport Keepsake
This memory passport from Ipe Prints is a great gift and keepsake. You can add pictures (polaroid size is perfect) and notes of your travel, even add receipts or stubs from your favourite restaurants and shows you went to. When ordering the memory passport, you send the owner two profile pictures, they will add them to the passport and send it out for delivery. Capture all of the moments of your next trip in the amazing memory passport.
Those are our top choices for gifts for travel lovers. We love finding awesome gift ideas from Canadian businesses and sharing them with you. Thank you for supporting these local Canadian businesses.