If you're a candle lover as much as we are, and looking to support a local Calgary business, you're going to love this round-up of Calgary candles to shop. We want to help you find the perfect candles to give as a gift or to add that cozy feel or yummy scent to your home. Check out awesome made in Calgary candles below.
All pictures are from the websites of the businesses we feature. This post may contain affiliate links. At no cost to you, we may earn a small commission if you make a purchase. This helps support our team and allows us to keep making local shopping in Canada easy. Thank you for supporting our family-owned small business too!
Casa Candle co.
The Casa Candle Co. candles are handmade with 100% natural soy wax, love and care. Let the soothing crackling of the wood wick sounds and the unique scents such as sandalwood and white tea & bergamot fill your home with their luxurious fragrance. Not only are Casa Candles beautifully packaged and perfect for gift giving but they are customizable! You can pick your own fragrance, personalize the label with someone's name, a quote, or a short message and add beautiful rose petals or lavender to your candle. What a wonderful and unique way to tell someone thank you or that you are thinking about them.
Casa Candle Co. is now offering free shipping!
Dream Scents Inc.
Providing clean burning 100% soy wax candles with the most incredible and wide array of scents available. You can find fragrances for every season and any occasion you can possibly think of. What smells come to mind when someone says Happy Birthday? It's likely a vanilla cake slathered in delicious icing and sprinkles, that is exactly what the Happy Birthday candle fragrance is. The crackling birch scent takes you back to the days when you would simmer potpourri on the stove with fragrance notes that fill your home with warmth, spice, and nature. The options of unique scents are endless at Dream Scents.
Libby & Frank Candle Co.
The Libby & Frank Candle Co. are the perfect addition to your home with their beautiful amber jars and sleek, minimal labels. In addition to the gorgeous presentation, these handcrafted, coconut soy wax candles have the loveliest fragrances available. Scents like Grapefruit Mimosa with notes of fresh grapefruit, sparkling champagne with an undertone of tangerine. Or Firewood with notes of bergamot, patchouli and sandalwood with undertones of leather, transporting you back to your favourite camping trip. At Libby & Frank Candle Co. they believe in giving back to the community, they are committed to donating $1 from each candle sale into positive action for LGBTQ+ youth in Alberta.
YYC WAX
Have you ever heard of beeswax sheets? They can be used to make rolled beeswax candles but are not easy to find. That's where Lisa Graham comes in. She started making beeswax sheets accessible online when she realized others were having a hard time finding them. With demand so high and her background in software engineering she decided to open her own online shop. YYC Wax now offers a wide array of supplies to make your own candles including solid beeswax, wicks and beeswax sheets, along with tons of beeswax products like; lip balms, mini self-care kits, beeswax candles and more. She even offers candle making classes.
After glow Candles
Wow, the most beautiful and detailed candles you will find. These candles made by Kelly from After Glow are almost too unique to burn. These are like designer candles, meant to be a part of your décor. There are ghosts and pumpkins for Halloween, modern Christmas trees and traditional reindeer and polar bears. How about a desert in a glass cup so detailed you'd think you could eat it. There are rainbows, seashells and bubble cube candles, the perfect addition to any home. These unique, handcrafted candles will take your décor in your home to the next level. You can even request designs!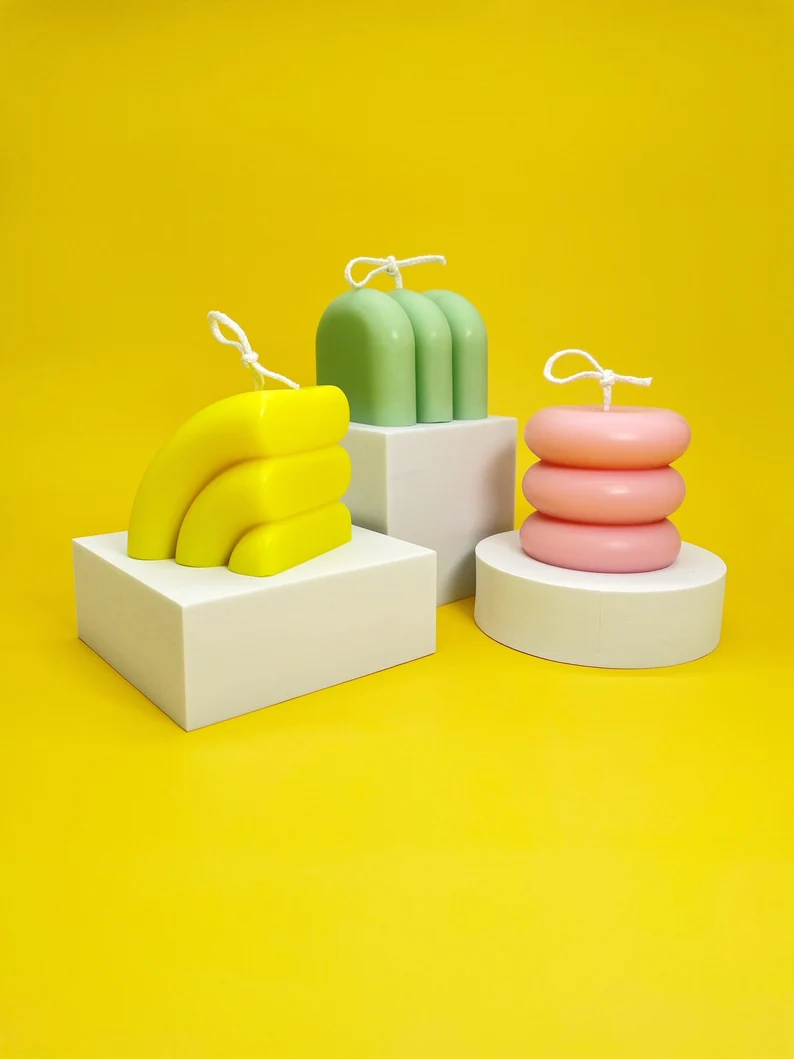 Love, Mootique
Everything from the presentation of the candles to the packaging they come in is perfection. If you are looking for a beautiful and unique gift, Love Mootique is a great option. The realism of these candles will have you wondering, can I eat these macarons? Picture a gorgeous retro perfume bottle candle as an accent piece in your bathroom. Or delicious strawberry or Christmas sponge cake candle as a stocking stuffer or birthday gift. They even have a beautifully detailed wedding dress candle. The designs and attention to detail in each candle will astound you.
Hopefully this helped you find the perfect Calgary candles to shop or give as a gift. We'll continue to update this list as we discover more great candles in Calgary.