We've gathered a list of the top wood wick candles in Canada to help you find the perfect one for you or to give as a gift. There are so many unique scents and looks available. If you're looking to increase the cozy feel in your home, wood wick candles are the answer. There's something about the crackling wooden wick that immediately sets a relaxing vibe and ambiance. 
Some pictures are from the websites of the businesses we feature. This post may contain affiliate links. At no cost to you, we may earn a small commission if you make a purchase. This helps support our team and allows us to keep making local shopping in Canada easy. Thank you for supporting our family-owned small business too!
You might also be interested in:
Canadian Wood Wick Candle Brands
MYSA Candles
Ships from Morden, MB
Scents include coconut vanilla, cranberry clove & lilac lemon
These wood wick candles are unique because you buy a ceramic container once and then only need to purchase refill candles moving forward. The refill candle comes in a paper cup which you cut off before placing in the ceramic container. These are great if you want to cut down on candle container waste and prefer a ceramic candle container with a clean look.
Dark Horse Handcrafted
Denice Harrison takes the utmost care and attention to detail when it comes to creating her Dark Horse Handcrafted Candles (based in Mayerthorpe, AB). Making only small batch candles using sustainable ingredients, led-free cotton or wooden wicks. Imagine your home with the soft, layered fragrance blend of the Black Raspberry Vanilla Soy Candle, with subtle hints of raspberries, strawberries, coconut, lemon, peach and vanilla.
Temper & Lace
Luxurious comfort is the theme of the Temper & Lace (based in High River, AB) line of candles and they have it perfected. From the beautiful wood wick, to the unique candle names (Bliss, Cowboy, Phantom!) to the chic presentation and most importantly, the fragrances. The Lawless candle features jasmine, leather and oak, what a unique scent.
The Casa Candle Co.
Ships from Calgary, AB
Scents include white tea & bergamot, citrus & jasmine, lavender & honey
Lolita's Candle Co.
A creative outlet for Lolita's Candle Co. (based in Vancouver, BC) creator, Karla, who has a big passion for art and design which shows in her incredible candles. The unique Bubble Candle, Minimalist Sea Shell Candle, Zig Zag Pillar Candle, Curvy Goddess and many more, will definitely become a statement piece and a conversation starter in your home. All of these beautiful candles are eco-friendly and hand poured right in Karla's kitchen.
Mala The Brand
Ships from Vancouver, BC
Scents include coffee cream, matcha latte, mimosa
Free pick up in Vancouver with code: LOCALPICKUP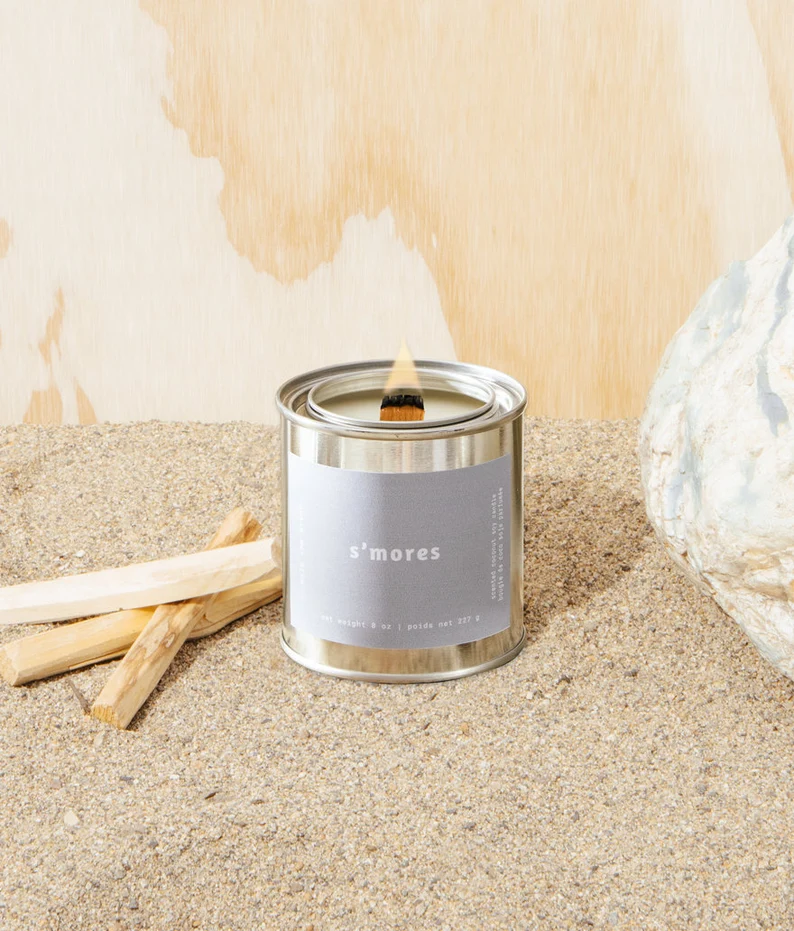 Three Wicks
Diane is the creator of the beautiful line of clean burning, eco-friendly candles called Three Wicks (based in Courtice, ON). She pours a lot of love into each small batch of candles, knowing she is filling each home with scents that evoke new and old memories along with the soothing crackling sounds of the wood wick that makes your home feel warm and cozy. You can return your jar vessel to be refilled with a new or the same scent for a reduced price, what a great way to reduce waste. Some of her candle scents include lavender sage, earl grey & eucalyptus lavender
Salt & Sea Candles
These beautiful candles are made with the utmost attention to detail. You will want to display these simple yet elegant candles throughout your home. The elegance doesn't stop at the presentation of the candles but is also present in the fragrances such as; Snow Oak Sage, Honey Fig Ginger, and Fresh Clementine. Take a pause in your day and notice how your home fills with these beautiful yet subtle fragrances while you listen to the soft crackle of the wood wick.
A Petit Feu
The candles from A Petit Feu (based in Beloeil, QC) are an entire experience, helping you connect to the earth, your artistic self, finding calm, relaxation and serenity. Decorated with dried flower petals, herbs and spices, quartz and stones you will be able to tap into whatever your mind, body and spirit needs at that time. Take time for yourself and enjoy the experience.
Karys Layne Candles
Sheri Lux is the creator of Karys Layne (based in Regina, SK), named after the grandmothers of her children. These carefully handcrafted candles come in an elegant, square glass vessel. A beautiful addition to any room in your home with scents like Gold Champagne and Silver Sparkle. The Crystal Collection is a unique line of candles that includes just that, an orgonite crystal pyramid which is a healing crystal to absorb negative energy.
As you can see there are so many beautiful wood wick candles in Canada. This shopping guide will help you find an awesome new candle shop to support close to home. We'll keep adding to this list as we discover more wood wick candles.
You might also be interested in: