If you're wondering where to find the best crystal shops in Canada, you're in the right place. Whether you're a seasoned gemstone lover or new to these healing crystals, you're going to love checking out all of these amazing Canadian crystal shops.
Some pictures are from the websites of the businesses we feature. This post may contain affiliate links. At no cost to you, we may earn a small commission if you make a purchase. This helps support our team and allows us to keep making local shopping in Canada easy. Thank you for supporting our family-owned small business too!
Enchanted Crystals
Enchanted Crystals is a local Nova Scotia shop based in Halifax. They have lots of crystals to choose from like rose quartz, aventurine and tiger's eye. We personally love their 'confetti scoop' option where you'll receive a mystery selection of crystals.  
The Mystical Mamas Crystal Store Canada
Canadian crystal store, The Mystical Mamas, has some of the most beautiful high quality AAA grade crystals. We were particularly blown away by their collection of crystal spheres. This is definitely a crystal shop to check out.
Crystal Wood Blessings
Crystal Wood Blessings is another crystal shop in Canada that's based in Chilliwack, BC. They have a large collection of gemstones including slabs (shown below), rough/raw crystals or polished/tumbled gemstones. They have also put together crystal sets that focus on an intention. These sets would make a great gift for yoga lovers.
Sagewick & Willow
Sagewick & Willow is based in
Winnipeg
, MB and offers a range of metaphysical products that can support you on your spiritual journey. Products include a beautiful collection of crystals, sage bundles, singing bowls, journals and more.
Soul Creations Shop
All of the crystals from this Saskatoon, Saskatchewan based shop are purified with palo santo and then infused with Reiki energy. The owner of Soul Creations is a level 3 Reiki Usui practitioner. Products range from tumbled and raw stones, crystal kits and healing bracelets.
Prairie Girl Gems
Prairie Girl Gems is a local Alberta business based in Strathmore and has a collection of crystal points and a few palm stones. They offer free shipping.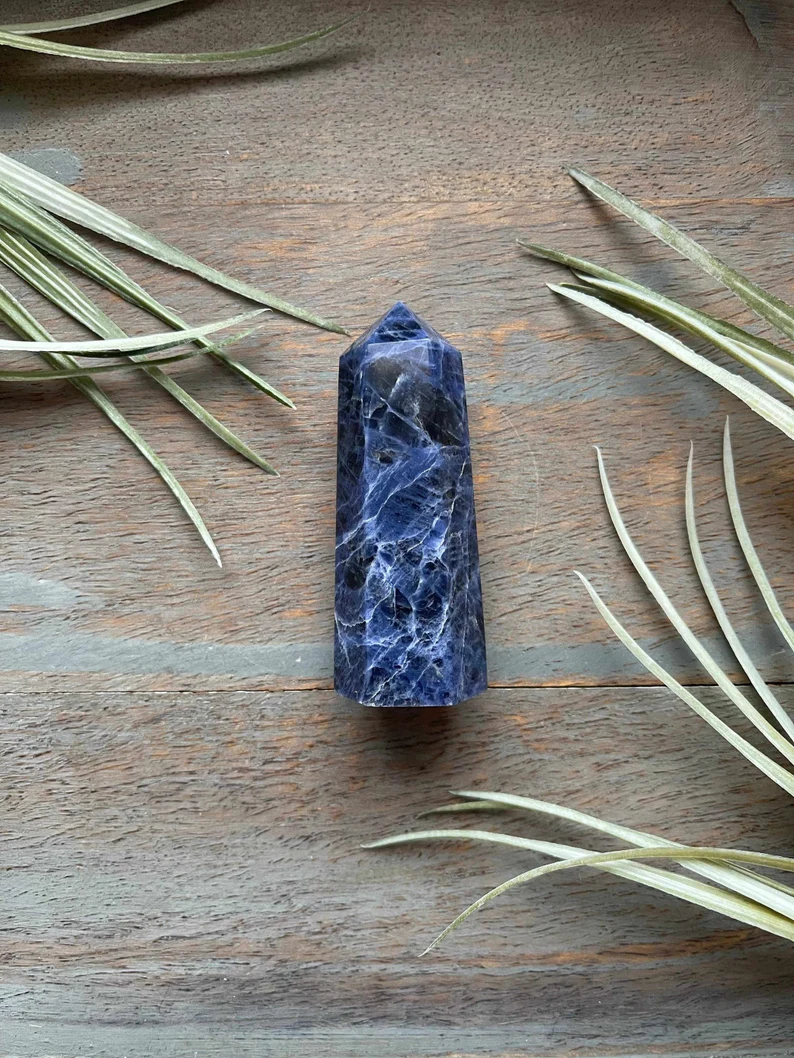 Six Of Wands Company – Crystal Store
Six Of Wands is a local shop in Burnaby, BC. They have a mix of tumbled and raw gemstones, from selenite to black tourmaline and this beautiful raw amethyst (pictured below).
Divine Mine
Divine Mine is based in Calgary, AB and offers products for mind, body and spirit including a wide range of crystals, tarot cards, books and decor (and SO much more). They have a full online shop but also two retail locations if you're located in Calgary.
Charmed By Crystals
Charmed By Crystals is a crystal shop in Canada that is based in Montreal, QC. They have a large collection of crystals and we love that they let you know what each crystal is used for. For example, citrine is for wealth and abundance and pyrite (shown below) is for luck and good fortune.
Chanti Esthetic & Wellness
Chanti Esthetic & Wellness is based in Russell, ON and offers a mix of in-person services like facials and energetic cleanses, a monthly membership community and an online shop. Their online shop has everything from crystals, crystal-infused candles and products from other high vibration brands.
The Local Crystal Shop
The Local Crystal Shop based in Montreal, QC provides a wide range of ethically sourced crystals at affordable prices. You can easily shop by price range and they have the option to grab a mystery mix of crystals which is always fun.
Love & Light Jewels
Love & Light Jewels is a
black-owned business
based in Richmond Hill, ON. Their products range from home decor, to crystal infused candles, to a beautiful collection of crystals in their 'just crystals' section.
These are some of the best crystal shops in Canada to fulfill your crystal and gemstone needs. Thank you for supporting these local Canadian crystal stores. Your support means more than you may realize.
You might also be interested in: