We've gathered a list of some of the best gift baskets in Victoria BC to help make finding that perfect gift easy. You might also be interested in our Victoria gift shops and Victoria jewellery stores shopping guides as well. 
You can also check out our Canadian gift baskets guide for Canadian companies that ship gift baskets across Canada.
Some pictures are from the websites of the businesses we feature. This post may contain affiliate links. At no cost to you, we may earn a small commission if you make a purchase. This helps support our team and allows us to keep making local shopping in Canada easy. Thank you for supporting our family-owned small business too!
Kind and Bloom
Kind & Bloom is a natural bath and body company in Victoria BC. They create all of their products without the use of parabens or artificial scents. Along with individual products and party favours, they've put together gift baskets that feature their products. If you're looking for a self-care or spa themed gift basket, these are a great option. We also included Kind & Bloom in our Canadian bath bombs shopping guide.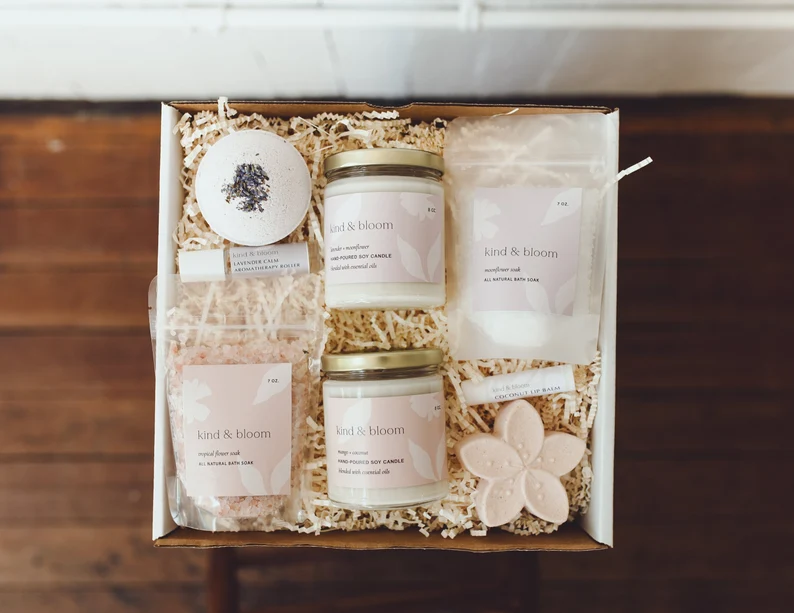 Lucky Gifts Apearl
Lucky Gifts Apearl has put together a beautiful 'stress relief' gift basket. We could all use a little encouragement to relax and take some time for ourselves and this gift box does just that. It includes tea, luxurious soap, hair tie, handmade candle, lip balm and a few other goodies. Perfect for a birthday, Christmas or a 'just because' gift.
Sewn With Passion
Sometimes it's nice to pick items for your gift basket yourself. If this is something you'd like to do but need a basket, Ann from Sewn With Passion creates gorgeous baskets in the prettiest fabrics. You could fill the basket with lots of personal, hand-picked gifts. We also love her fabric planters that would make a great gift for plant lovers.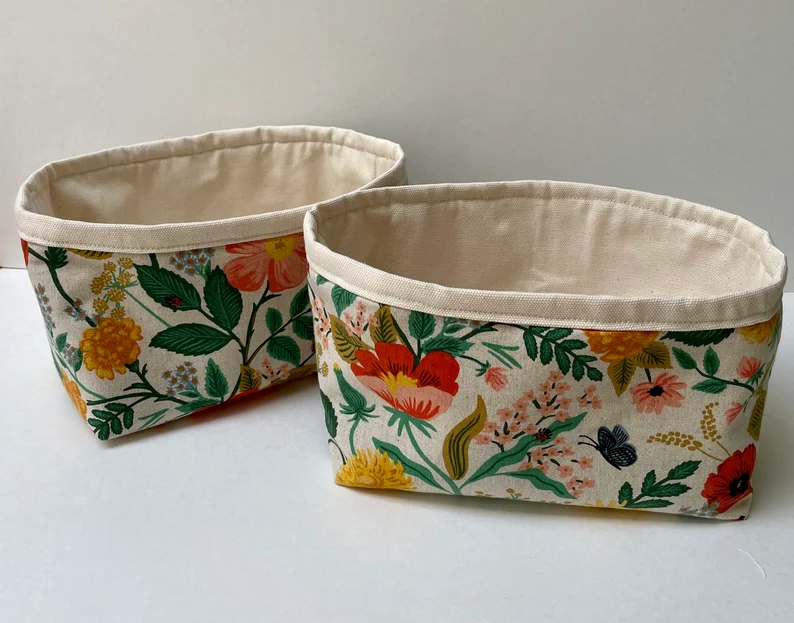 Wychbury Ave.
Wychbury Ave. has an entire section on their website dedicated to gift sets. They make natural and sustainable bath and body products including incredible bath bombs. Their gift sets include products from their shop like clay face masks, natural soaps, essential oils and more.
Oak Bay Flower Shop
Oak Bay Flower Shop is located in Victoria BC and creates some really great gift baskets right in their store. This is great because they can completely customize a basket based on your needs and budget. Some of their pre-made gift basket themes that are available are 'tea time', 'hostess savoury & treats', and 'charcuterie basket'. The charcuterie gift basket would go great paired with a Canadian charcuterie board.
Modern Baskets
Luxury gift baskets with delivery available in Victoria, BC. Basket themes include the big Italian basket, housewarming box and the local island basket.
West Coast Gift Baskets
Victoria based business, West Coast Gift Baskets, offers a variety of really great gift options. They have baskets for various themes like housewarming, birthdays, gourmet food, kids, corporate and more.
Blissful Baskets By Christina
Blissful Baskets By Christina is another great Victoria gift basket company. They have a huge collection of beautiful gift baskets in various themes like 'wine & cheese', 'Canadian made treats', 'weekend snacks for him', 'home sweet home', and so many more. They also offer same day delivery in Victoria which is perfect if you need a last minute gift.
Local Artisan Boxes
Local Artisan Boxes is a Victoria BC based gift baskets company. They specialize in curating gift baskets that feature products from West Coast businesses and artists. They have gift baskets with different themes like 'sweet kitchen' (shown below), 'savoury kitchen (shown below)', 'coastal dreaming', and a box specifically for Christmas. If you live in the Victoria BC area you can choose to pick up your gift basket, have it delivered for $5, or have it shipped. With Local Artisan Boxes you can truly support shops close to home.
Soulful Sister
Soulful Sister is an aromatherapy business that creates products using organic, 100% natural and fair trade ingredients. Their line of products include things like face roll-ons, bath salts, body oil and more. They have two gift baskets to choose from – The Spa Oasis Gift Box and The Gift Of Sleep. They offer free shipping!
Those are our top picks for where to shop for gift baskets in Victoria BC. We'll continue to update this list as we discover more local Victoria shops putting together amazing gift baskets.