If you're looking for the top gifts for hockey players and fans, we've got you covered. We've picked the best gifts that are sure to impress every hockey player and fan and help them celebrate their love of hockey. Thanks for supporting these great Canadian businesses.
Some images are from the websites of the businesses we feature. Some links may be affiliate links. At no extra cost to you, we may earn a small commission. This helps support our team so we can keep showcasing local shops. Thank you for supporting our family-owned business too.
Custom Hockey Pucks
Engrave a hockey puck with your players name, jersey number, team, and logo. Or, you can even add the entire team roster on the back of a hockey puck. These custom hockey pucks make a great team gift or a great idea for a coach to say thank you for all of their hard work throughout the season.
LSJ Designs, a local Alberta business, also makes the most beautiful personalized double layered hockey ornaments. You can customize the ornament with your hockey players details and add the team colours to the back. You have to see these ornaments for yourself, the hockey details are perfectly thought-out and you can customize them, making it a perfect gift for hockey players.
Custom Hockey Metal Signs
Ensix Metal Design is a local Calgary shop that creates custom metal signs. You can choose between a design with a name on it or the name of your favourite hockey team or they even have hockey themed house number signs.
Hockey Doormats
"Probably at the Rink" welcome door mat couldn't be a more fitting gift (or purchase for yourself) for any busy hockey family. Because more than likely if they aren't home, they are probably at the rink! Choose from three different sizes to fit your porch perfectly. These door mats are made from durable materials and will withstand the constant in and out traffic of your busy hockey family. These mats are from Monkey Fly Memories, a local British Columbia shop based in Surrey.
Custom Hockey Art
Slapshot Pixels, a local Barrie Ontario shop, creates awesome digital download hockey prints. Customize your print with the name and number of your player and what size you will be printing. A perfect addition to any hockey player's room and a unique gift for the hockey player in your life. These prints would also make a  great idea for the end of the year hockey team gift! Make sure to check out @slapshotpixels on Instagram where you can find the latest discount codes.
Display your love for hockey with the customizable hockey jersey print from Top Brain. The print displays the back of your favourite team's jersey. You can add a different jersey for each member of your family or even your entire hockey team. Customize each jersey with a name, add your team Name/family name at the top and a saying or special quote to the bottom of the print. 
Wow, I don't know if you can get any more personalized than these customizable digital downloads. If you are a sports family or want a personalized gift for Dad these beautiful watercolour prints are perfect. Showing the back of each person, you can add as many family members as you want to your print, picking the skin colour, hair colour and length and name on the back of the shirt. You can even add a pet! These hockey prints are from local Toronto shop, Pink Grouse Designs.
Hockey Stick Accessories
The name says it all! The Hockey Stick Man, a local Ontario business, makes Adirondack chairs, BBQ utensils, coat racks and even snow brushes out of recycled pro hockey sticks. The Adirondack Hockey Stick Chairs have to be our favourite. The seat and the back are made fully from recycled hockey sticks and you have the option to add goalie hockey sticks for the arm rests. Definitely a statement piece for any hockey fan or players back yard.
Hockey BBQ Scraper
Harmsens Hockey is another Ontario business that's creating unique products from broken hockey sticks. They have hockey stick bottle openers, snow brushes, coasters and BBQ scrapers which would make a great gift for BBQ lovers.
Hockey Stick Pendant
Crafted By Citrus is a local Toronto jewellery store that makes unique hockey stick pendants. These sterling silver pendants can be customized with the hockey players name and number. It's a great way for hockey fans and players to show off their love of the game. 
Hockey Jerseys
The SPORT Gallery is a local Toronto business with a retail storefront in the Distillery District. If you aren't in Toronto, you can shop online. They have a huge selection of hockey jerseys including vintage-themed ones, laced sweater styles and true jerseys. Choose your favourite team on their website to easily see the selection. We also included them in our gifts for him Toronto shopping guide.
Visit them in person at:
15 Tank House Lane, Distillery District, Toronto 
Hockey Skate Socks
Main & Local is a Quebec business that has a great collection of Canadian novelty gifts. We like these Team Canada hockey skate socks. These would definitely make a great gift for hockey players and fans.
These hockey themed socks from moJJa Socks, a local Ontario business, make a great gift or stocking stuffer. They help you show off your love of hockey. They also have hockey-themed underwear to choose from as well.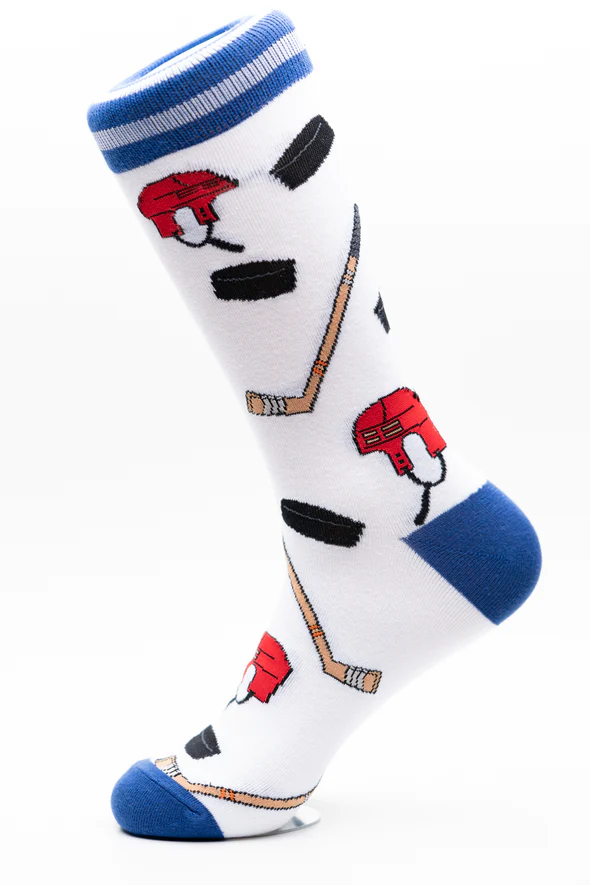 Hockey Wall Art Gifts
Year Of Patents, a local Montreal shop, creates unique patent wall art. You can choose between these hockey themed prints: 1934 Ernest Charles William Evernden's invention of the hockey stick, Leslie Bertrant Lindsay's 1948 design of the Hockey Net, or the creation of the leg guard specific for goalies invented by George L. Pierce in 1916. 
Hockey Themed Clothing
Elle Rae Kay is a local Winnipeg clothing store with sweaters for every occasion, including game day! Wear this to the rink to support your favourite hockey player or it's the perfect sweater for a hockey player to wear before and after a game. 
Looking for the perfect sweater, blanket or tumbler for your number 1 fan? Look no further than Cole & Ember Co. Choose from an array of coloured hoodies and crewneck sweaters with sayings like: "Game Day", "Eat. Sleep. Hockey. Repeat" and " Sorry. Can't. Hockey. Bye." Or you can purchase a cozy blanket to take to the rink or cozy up at home. Personalize your blanket with your favourite hockey players name. They even have personalized hockey wrapping paper, where you can add your players name a jersey number.
Hockey Skate Lace Bracelet
Hockey Lacelet is a local New Brunswick business based in Moncton that's all about making unique hockey bracelets. These are such a fun gift for hockey players to showcase their jersey number. They even offer team discounts if you want to grab them for your entire team.
As you can see there are so many great gifts for hockey players and fans from Canadian businesses. You might also be interested in our gift ideas shopping guides.