If you follow interior design or lifestyle bloggers, you've likely seen beautiful plumes of pampas grass taking over social media as it continues to grow in popularity. These dreamy bohemian arrangements could be the perfect addition to your home decor or your next event. That's why we've rounded up a list of where to buy pampas grass in Canada to help you find the combination that's right for you and your space. Happy Shopping!
All pictures are from the websites of the businesses we feature. This post may contain affiliate links. At no cost to you, we may earn a small commission if you make a purchase. This helps support our team and allows us to keep making local shopping in Canada easy. Thank you for supporting our family-owned small business too!
You might also be interested in:
Little Smoky Gift Co.
Little Smoky Gift co is a gift shop located in Valleyview, AB. In their shop, you'll find a wide variety of dried grasses and florals ranging from natural anahaws to cotton stems and bunny tails. While they mostly sell premade gift boxes you can send to your loved ones, we think these pampas grasses would make a great gift to yourself.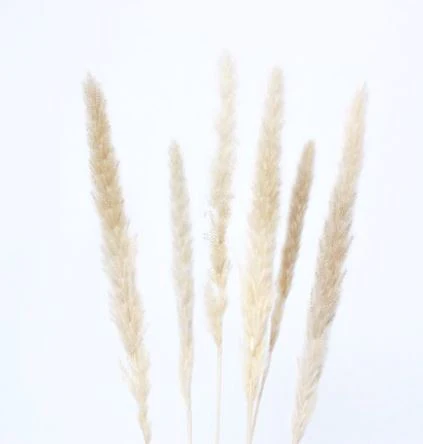 British Columbia Pampas Grass
Nu Moon Pampas
Nu Moon Pampas based in Vancouver, BC carries pampas plumes in neutral tones. If you know what you're looking for, you can purchase your stems from their shop directly. However, Nu Moon also offers a service called "All Things Bridal" for those looking for custom bridal bouquets, table decor, aisle arrangements, pampas clouds, and more.
Fairmile
Fairmile based in Vancouver, BC started with the sale of a single pampas grass wreath. Now their shop has grown to include dried floral arrangements as well as large fluffy pampas stems and leaves so you can create your own showpiece. If you need inspiration on how to style your stems or wreath be sure to check out their Instagram page.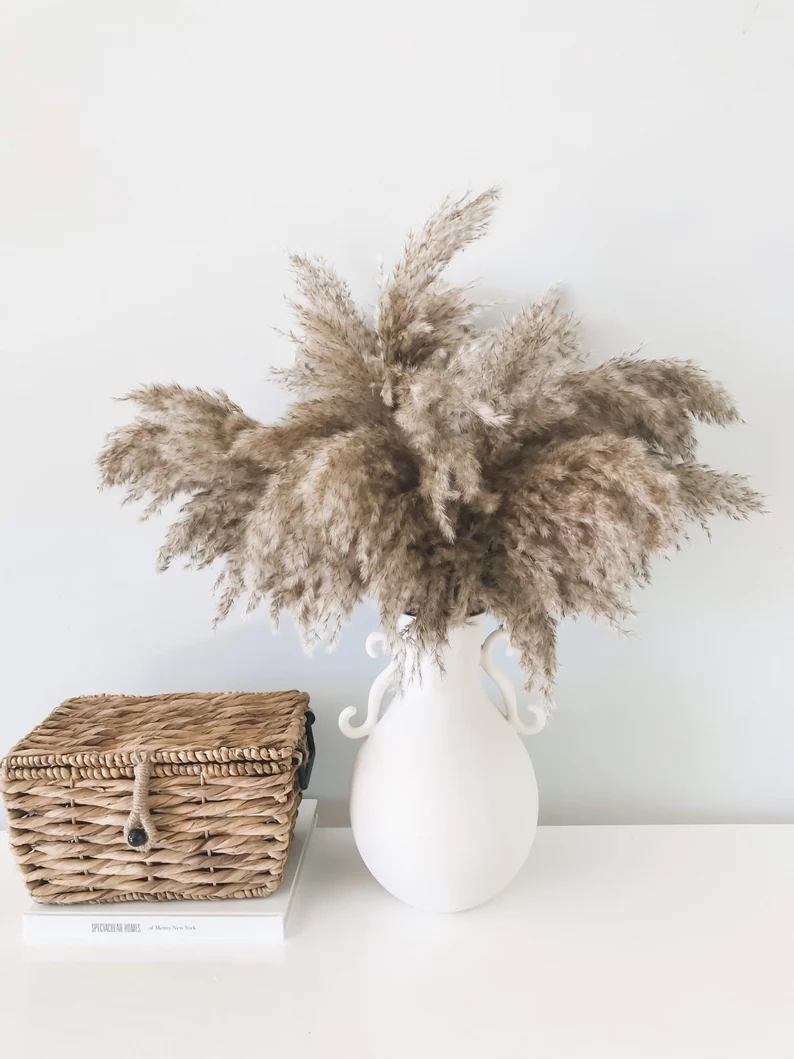 Ciji Marie Blooms
Ciji Marie Blooms based in Hamilton, ON was inspired by the effortless beauty of dried florals. After searching high and low for the perfect pieces for their own homes, owners Donna and Sumur decided to open their shop to share their stunning pampas finds with the rest of us. They even offer premade bouquets and vases to make styling your home a breeze.
Oneway Home
Oneway Home based in Barrie, ON was created by homeowner and event planner, Kay, who fell in love with the beauty and essence of dried arrangements. In her shop, you'll find large pampas plumes, dried eucalyptus, and palm leaves. You'll also find inspiration photos to help you decide exactly how you want to style your new favourite decor pieces.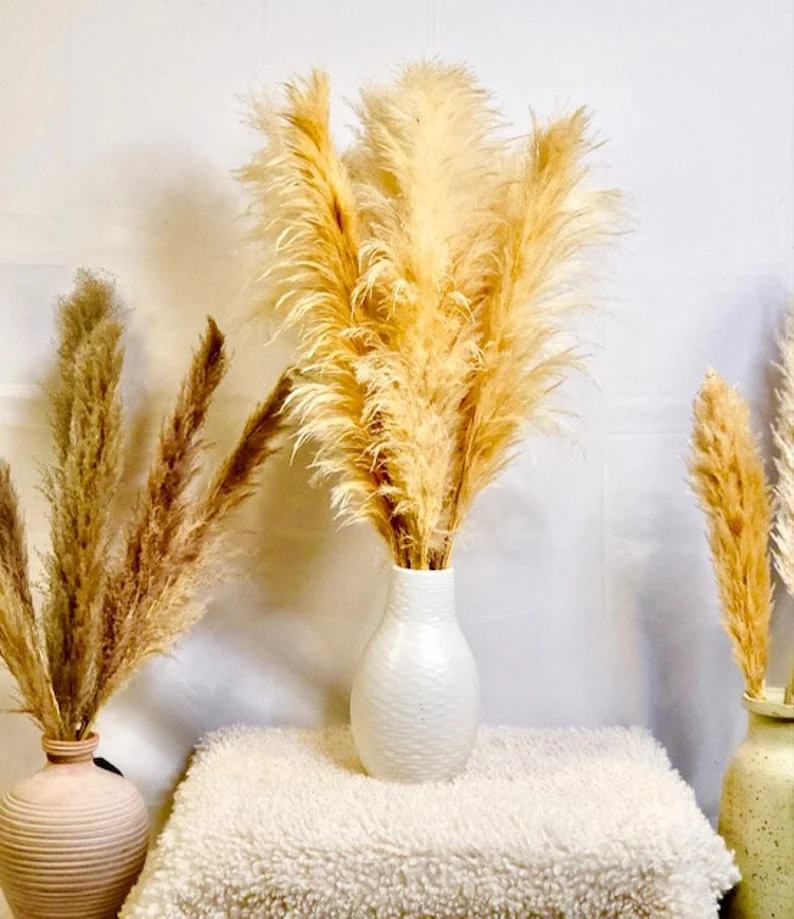 Miss Fleurs
Miss Fleurs based in Toronto, ON is your go-to for wedding accessories. From bridal bouquets and table arrangements to boutonnieres and floral crowns, their pieces add the perfect extra touch to your special day. If you're more of a DIY-er, they also offer loose stems and bundles so you can create your own. 
Estrela Decor
Estrela Decor based in Toronto, ON brings you beautiful, minimalistic dried florals. In their shop, you'll find unique vases, palms, and pampas as well as premade dried bouquets and arrangements. We personally love their mini bouquets, perfect for a pop of colour on a shelf or entry table.
B Budget Chic
B Budget Chic is an online decor shop offering an extensive collection of dried florals, leaves, and grasses. What makes them unique is their colour choices, ranging from powder blue flocked pampas to glittery red palm leaves. If you're looking to stick with a specific colour scheme then this is the shop for you.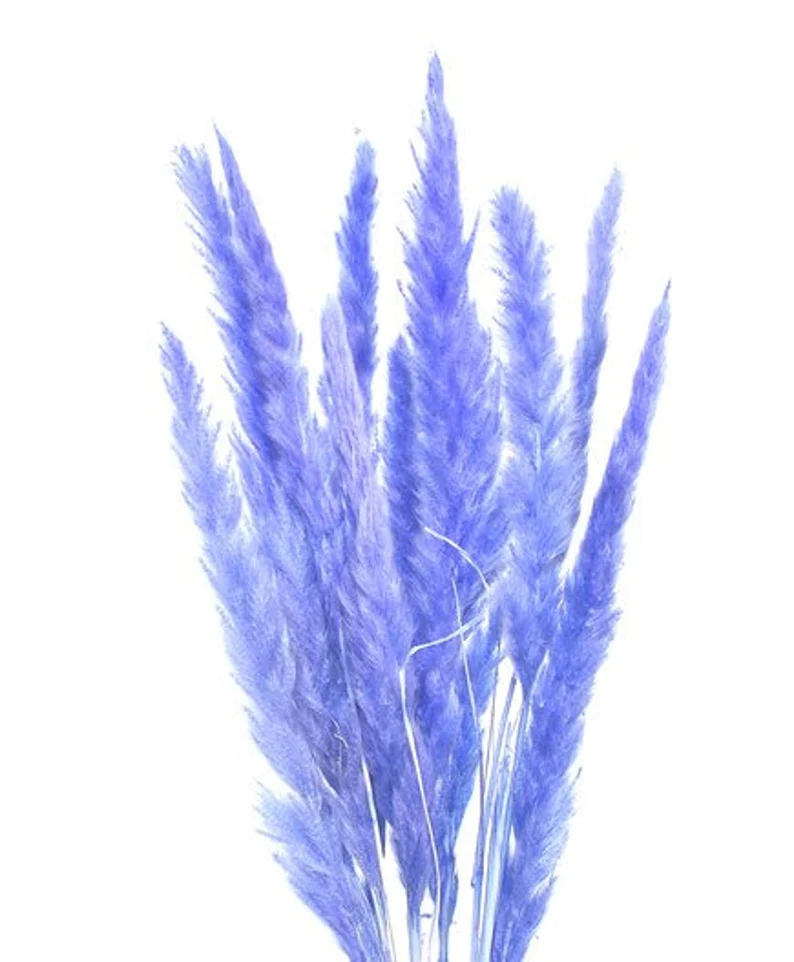 The Scented Market
Along with an incredible collection of bath and body products, candles, gifts and items for your home, The Scented Market sells small bundles of pampas grass. Their bundles are all natural and perfect for adding a cozy touch to your home decor.
You can shop online or visit The Scented Market in one of their Ontario locations in Guelph, Niagara On The Lake, Paris and Fergus.
New Brunswick Pampas Grass
We hope this list of Canadian shops selling pampas grass helped you find the perfect plumes and a new local shop to support. We'll continue to update this list as we discover more Canadian shops selling pampas grass.
You might also be interested in: