There are some really talented people making pottery in Kelowna. We've gathered our top picks and shared them with you below. This shopping guide will help you discover local Kelowna businesses who are creating some really incredible ceramics. We know they appreciate your support so much. Thank you for shopping local.
All pictures are from the websites of the businesses we feature. This post may contain affiliate links. At no cost to you, we may earn a small commission if you make a purchase. This helps support our team and allows us to keep making local shopping in Canada easy. Thank you for supporting our family-owned small business too!
Love Co. Ceramics
Love Co Ceramics, owned by the talented artisan Briana Paulson, is a pottery shop in Kelowna that specializes in crafting unique and beautiful mugs and tumblers. With her keen eye for design and a passion for ceramics, Briana infuses each mug with a distinct character that appeals to various tastes.
The Love Co Ceramics collection boasts exquisite mugs, each striking a perfect harmony between simplicity and sophistication. Whether you're in search of a delightful gift or a statement piece to elevate your home decor, Love Co Ceramics has just the right pottery to cater to your preferences.
Nancy Blokland Pottery
At Nancy Blokland Pottery, you'll step into a world of exquisite handmade pottery inspired by the captivating wonders of land and sea. Nancy's artistic journey celebrates the beauty of nature, reflected in her stunning collection of teapots, mugs, bowls, serving pieces, utensil holders, vases, trays, catch-alls, jugs, pitchers, and planters.
The delicate designs and intricate patterns bring a touch of whimsy and serenity to your living spaces. Whether you're looking for a functional teapot for your afternoon tea or a charming plant pot to liven up your home, Nancy Blokland Pottery offers a delightful selection that showcases the harmony between craftsmanship and nature's elegance.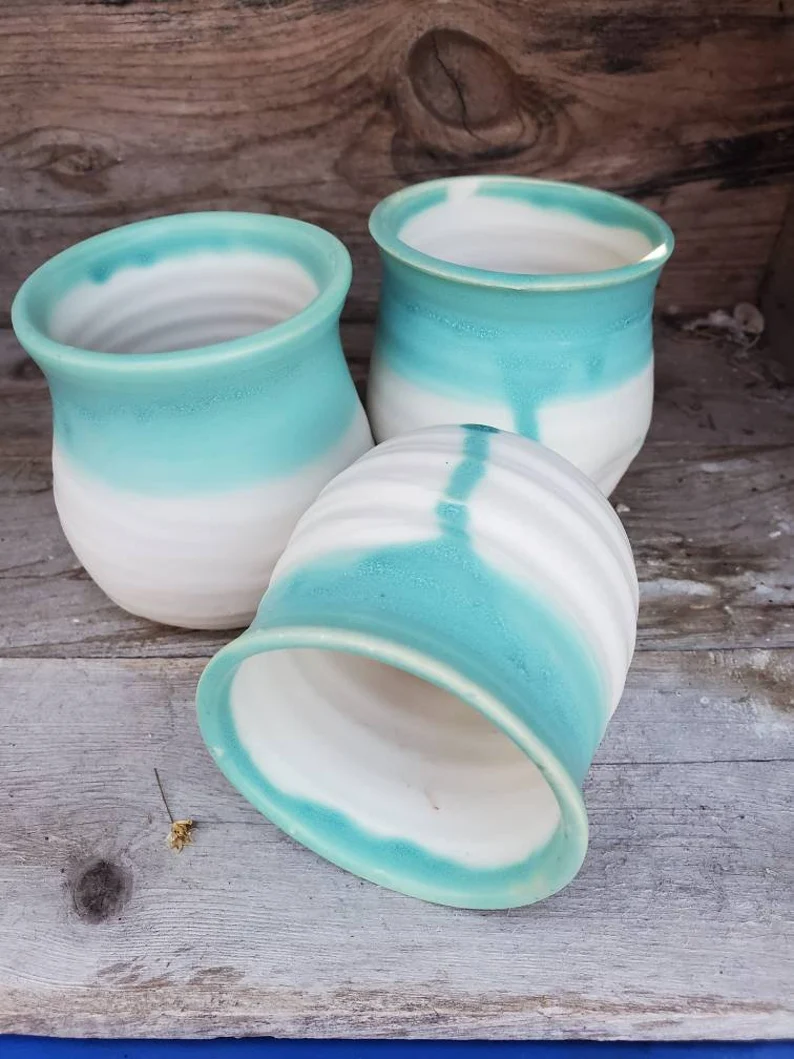 Petals To Pottery
When it comes to capturing the mesmerizing essence of the natural world, Petals to Pottery stands as a true testament to artistry and craftsmanship. This Kelowna pottery brand celebrates the beauty of nature through its intricately designed floral motifs.
At Petals to Pottery, the creative process is as unique as the pieces themselves. Every item listed has been lovingly hand-crafted, allowing for natural blemishes and imperfections to occur. This dedication to craftsmanship distinguishes Petals to Pottery from factory-produced stoneware, ensuring that each creation carries its own distinct charm and character.
Willa Bees Pottery
The charm of Willa Bees Pottery lies not just in its artistic designs but also in its functionality. Whether you're sipping your morning coffee from a whimsical bee-stamped mug or serving a delicious meal in one of their stylish bowls or plates, you'll appreciate the perfect blend of aesthetics and usability.
With each piece expertly crafted, Willa Bees Pottery manages to strike a beautiful balance between modern simplicity and timeless elegance. The signature bee stamp adds a touch of whimsy and character, making these ceramics an ideal addition to any home or a thoughtful gift idea.
Clayline Pottery Classes
Nestled in the heart of Kelowna, Clayline Pottery is a charming pottery studio that embodies the true essence of artistic authenticity.
At Clayline Pottery, the artistic journey begins with artisans who skillfully transform raw clay into stunning works of art. Their Kelowna pottery classes are geared towards adults who are interested in learning more about hand building and wheel throwing pottery. Or, if you're looking for more studio time, they also have the option to join their studio membership.
Their passion for the craft is evident in every carefully handcrafted piece, making it a go-to destination for pottery enthusiasts and art lovers alike.
This pottery shopping guide will help you find the best pottery in Kelowna, BC and thoughtful gift ideas for your loved ones. Thank you for supporting these Kelowna businesses and shopping local in BC.