The only thing better than finding gorgeous handmade pottery is discovering amazing pottery made by people in your home city. If you're looking for some of the best pottery in Toronto, we've rounded up our favourites in this blog post. We hope you enjoy it and find a new favourite Toronto pottery shop to support. 
All pictures are from the websites of the businesses we feature. This post may contain affiliate links. At no cost to you, we may earn a small commission if you make a purchase. This helps support our team and allows us to keep making local shopping in Canada easy. Thank you for supporting our family-owned small business too!
You might also be interested in:
Three Sheets Pottery
Three Sheets Pottery is an online pottery shop run by hobbyist, sailor and potter, Michelle. In her collection, you'll find the cutest catch-all trays and soap dishes with images such as feathers, bees, and a monstera leaf. With a neutral colour palette and a variety of styles, these trays make great housewarming gifts.
Sarah Whyte Ceramics
Sarah Whyte Ceramics creates unique porcelain and stoneware items. From watering cans to a pot-belly pig vase, if you're looking for something one-of-a-kind, you're sure to find it here! For those interested in learning more about how each piece is made, owner Sarah has her own YouTube channel to document the process.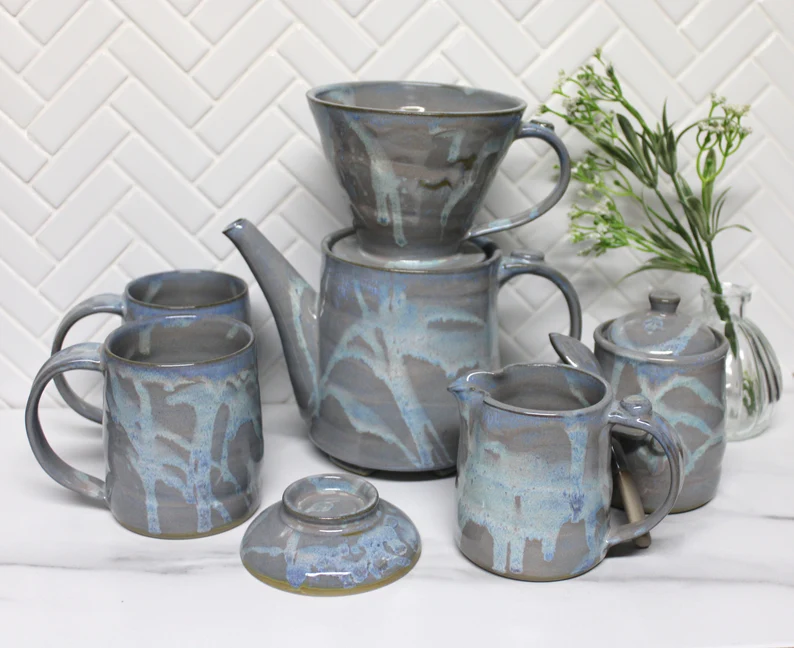 JF Clayware
JF Clayware is the creative outlet of owner, Julie. At first glance, you can see her handmade ceramic homewares are made with love. From jewelry dishes to ashtrays to mugs and salt dishes, any of the beautiful items in her shop are sure to become the new conversation piece of your kitchen or living room.
Free local pick up is available in Toronto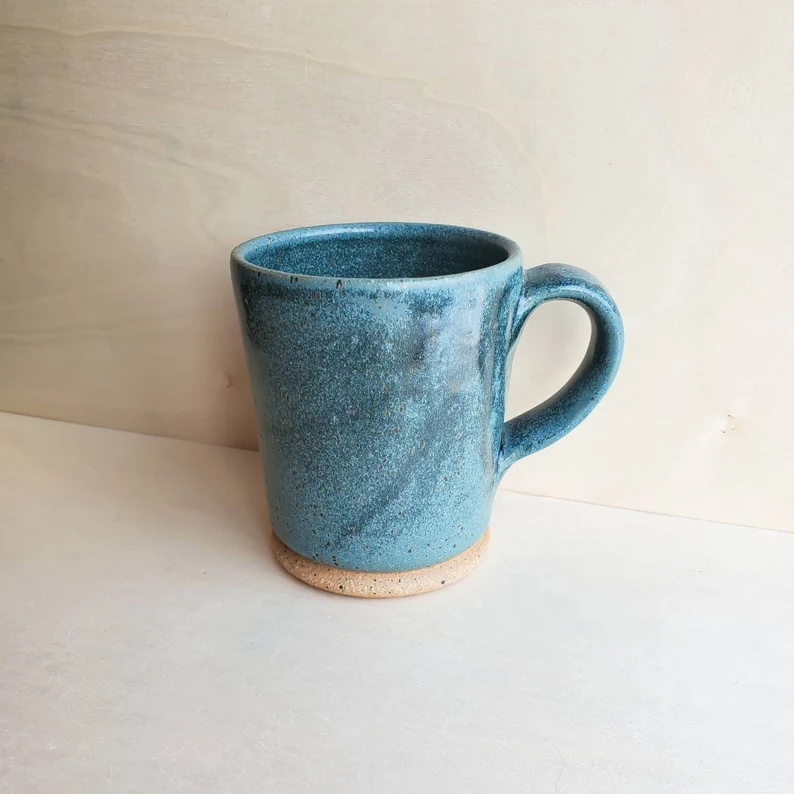 Clovelly Ceramics
Toronto pottery studio, Clovelly Ceramics, is creating unique wheel thrown pottery in small batches. We love their diffusion collection which includes the mug shown below. Along with beautiful pottery, they also make one-of-a-kind, made in Canada ceramic earrings and necklaces. 
They offer free shipping on many of their products
Sandra Doig Pottery
Toronto potter, Sandra Doig, has been making pottery using both hand building and wheel throwing techniques for over 10 years. Many of her pieces contain cute designs like mushrooms, flamingos or flowers. We absolutely love her planter and saucer (shown below). These Canadian-made planters would make such great gifts for plant lovers.
Imaginis Clay Studio
Imaginis Clay Studio's pottery is truly a work of art. The serving bowl shown below has so many unique and intricate details and is absolutely stunning. If you're looking for one-of-a-kind pieces, you need to check out this Toronto pottery shop. They offer the option to pick-up your order if you live in the Toronto area.
Yama Designs
Yama Designs brings you handmade porcelain tumblers and mugs. Their large mugs not only allow you to start your day with extra coffee, they also have a calming beach tone and indented body for extra comfort. For a great birthday or mother's day gift be sure to check out their handmade teapot with matching cups.
There you have it, some of the best pottery in Toronto. Hopefully this helped you find a new pottery shop to support right here in Toronto. 
You might also be interested in: